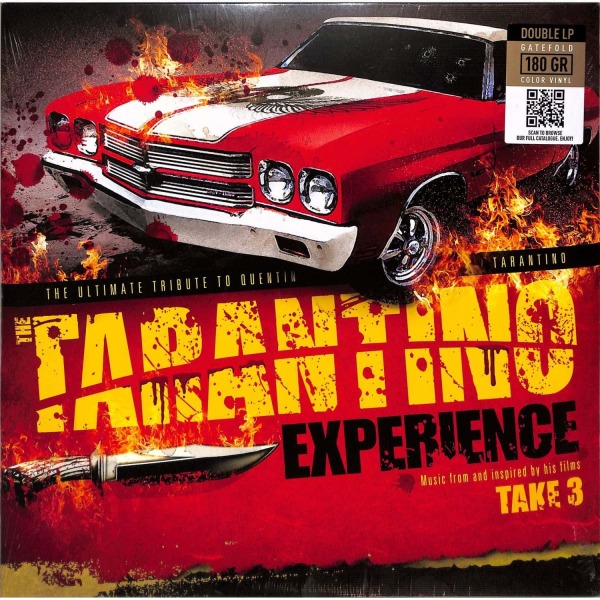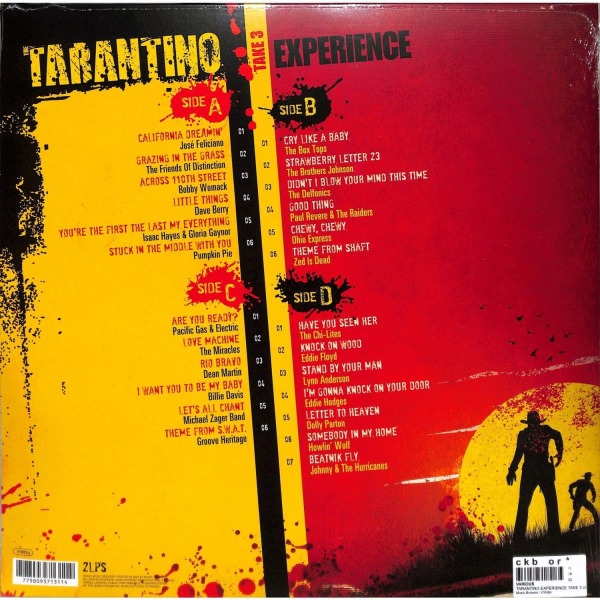 TARANTINO EXPERIENCE TAKE 3
To order please add to basket and proceed to check out
5.
You're The First The Last My Everything
---
6.
Stuck In The Middle With You
---
9.
Didn't I Blow Your Mind This Time
---
16.
I Want You To Be My Baby
---
22.
I'm Gonna Knock On Your Door
---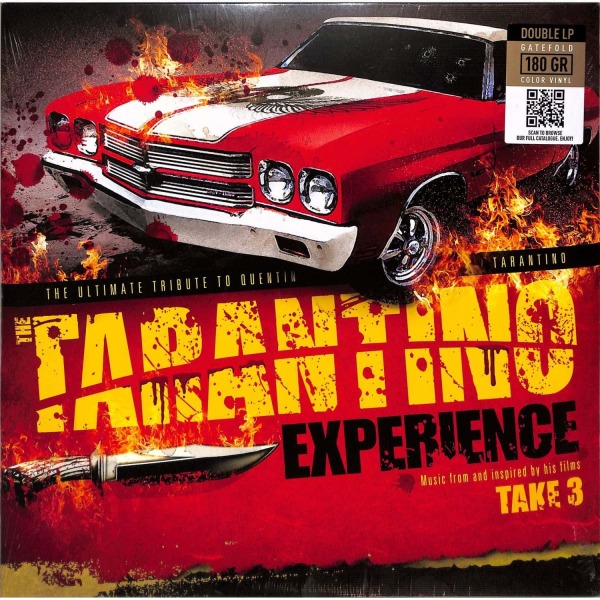 description
High Quality, Coloured Vinyl, Gatefold Sleeve
Eine der beliebtesten Compilations in der Geschichte von Music Brokers ist zurück! "The Tarantino Experience Take III" macht da weiter, wo "Reloaded" aufgehört hat.

Wie üblich enthält das Doppelalbum legendäre Perlen aus Quentins Filmen, darunter "California Dreamin'" von José Feliciano, "Across 110th Street" von Bobby Womack, "Cry Like A Baby" von The Box Tops und "Strawberry Letter 23" von The Brothers Johnson und viele andere.

Für einige Filmregisseure scheint die Musik in ihren Filmen genauso wichtig (oder wichtiger) zu sein wie die Bilder oder die gesprochenen Dialoge. Viele Fans von Quentin Tarantino würden einen Reservoir Dogs-Film ohne "Stuck in the Middle with You" oder einen Pulp Fiction-Film ohne "Misirlou" als gar nicht Reservoir Dogs oder Pulp Fiction ansehen.

"The Tarantino Experience Take III" zollt einem der größten Filmemacher der letzten 50 Jahre und seinem unheimlichen Talent ein weiteres Mal Tribut mit Musik aus und inspiriert von seinen Filmen Pulp Fiction, Kill Bill, Vol. 1, Jackie Brown, Reservoir Dogs, Death Proof und seinem neuesten Werk Once Upon A Time In Hollywood. Es soll Ihnen helfen, Tarantinos persönliche Herangehensweise an seine Projekte zu erkunden, wenn es um ihre Musik geht. Mit fantastischem Artwork und remastertem Sound ist "The Tarantino Experience: Take III" eine weitere unverzichtbare Ergänzung für Ihre Vinylsammlung.

"The Tarantino Experience: Take III" ist nicht auf Streaming-Plattformen verfügbar!