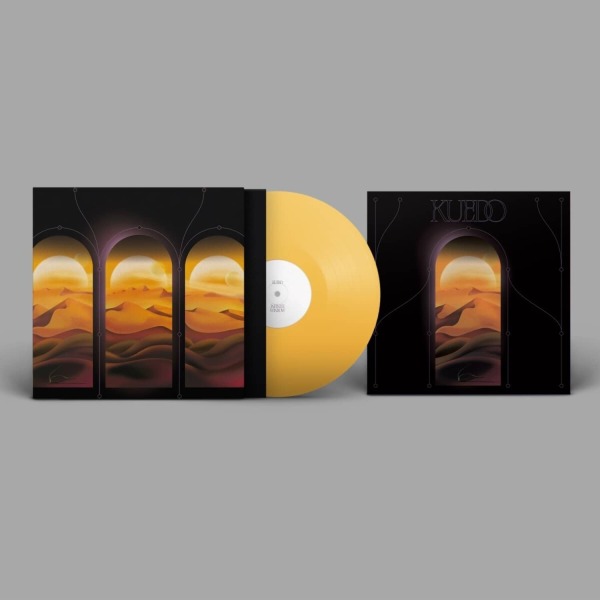 Infinite Window (LTD Yellow LP+MP3)
genre:
Electro / Electronic
To order please add to basket and proceed to check out
1.
Sliding Through Our Fingers
---
description
Kuedo wird sein neues Album, "Infinite Window", am 29. Juli 2022 auf Brainfeeder veröffentlichen. Das Ende Juli erscheinende neue Album ist das erste seit "Slow Knife", das 2016 bei unseren Freund*innen von Planet Mu erschien.

Mit einer Mischung aus Synthesizer-geladenen Avantgarde-Kompositionen und donnerndem Drum-Programming, verdankt das Album modernen R&B-Ikonen wie Frank Ocean und The Weeknd ebenso viel wie legendären Komponist*innen wie David Axelrod, Tangerine Dream und dem jüngst verstorbenen Vangelis oder zeitgenössischen Breakbeat-Aficionados wie Sully und Jlin.
Kuedo (englisch ausgesprochen: Q-dough) ist bekannt für seine Kompositions- und Sounddesign-Arbeiten für Unternehmen wie u.a. Fendi, Bvlgari, Iris Van Herpen oder Nike. Die Veröffentlichung seines kommenden Albums folgt auf eine Zusammenarbeit mit Brainfeeder-Chef Flying Lotus im Jahr 2017 für den Soundtrack von "Blade Runner: Black Out 2022" (unter der Regie von "Cowboy Bepbop"-Regisseur Shinichiro Watanabe), wobei Kuedo auch die Filme "Eurasia (Questions On Happiness)" und "The Sprawl (Propaganda About Propaganda)" von Metahaven vertonte. Die Vorstellung von "Zeit" - der Blick nach vorn und zurück - zieht sich wie ein roter Faden durch das Album und den Aufnahmeprozess. Die Entstehung von "Infinite Window" begann Anfang 2021, als Kuedo sich hinsetzte, um ein komplettes Album für Brainfeeder zu komponieren. Die fertige Platte ber ist eine akribisch zusammengestellte Collage aus neuen Kompositionen und verschiedenen Demos und Tonaufnahmen, von denen einige fast zehn Jahre zurückliegen.

Die limitierte Auflage der gelben Vinyl-LP enthält Artwork von den aufstrebenden visuellen Künstler*innen Monja & Vincent und ein Cover-Design von Raf Rennie (Acronym, Prada, Nike).