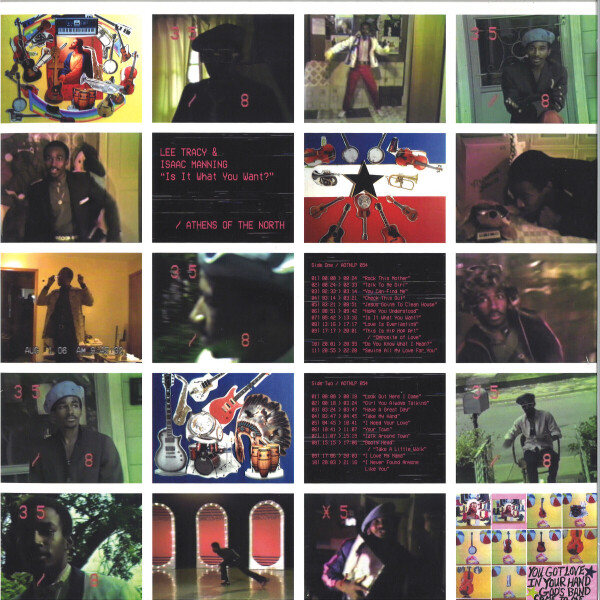 To order please add to basket and proceed to check out
5.
Jesus Going To Clean House
---
11.
Do You Know What I Mean
---
12.
Saving All My Love For You
---
14.
Girl You Always Talking
---
20.
Booty Head/Take A Little Walk
---
22.
I Never Found Anyone Like You
---
description
Während die Sonne über einem malerischen Haus in East Nashville untergeht, entblößt ein junger Mann ein Stück seiner Seele. Mit dem Gesicht zur Kamera und einem seidigen Ensemble aus Anzugjacke, Hemd, Hosen und fingerlosen Handschuhen, das "Sänger" ankündigt, bevor er überhaupt den Mund geöffnet hat, lässt sich Lee Tracy Johnson auf seiner Bühne im Vorgarten nieder. Er wiegt sich zum düsteren Drum-Machine-Puls eines Synthesizer-getränkten Slow-Jams, streckt die Arme aus, als wolle er sein Gleichgewicht finden, und singt in rührendem, zerbrechlichem Ernst: "I need your love... oh baby..."

Die Hunde im Hof nebenan beginnen zu bellen. Eine mysteriöse Roboterfigur aus Pappe, die aus unbekannten Galaxien hergebeamt wurde und an einem Baum befestigt ist, ist weniger lautstark. Lee nimmt die Anwesenheit der beiden nicht zur Kenntnis. Er ist damit beschäftigt, es zu spüren, Arme und Hände gestikulieren. Seine Stimme erhebt sich im Falsett über die nun ruhigen Hunde, über die Umgebungsgeräusche der Straße, die in das Mikrofon der Handkamera sickern, über die Aufnahme seiner eigenen Stimme, die von einer Boombox aus dem Off abgespielt wird. Nach sechs Minuten endet die einzelne, kontinuierliche Aufnahme. In diesem intimen kreativen Universum gibt es keine Wiederholungen. Es gibt noch viele weitere Musikvideos zu drehen, und wie Lee später sagt: "Das erste Mal ist eigentlich das Beste. Denn das kann man nie wieder erreichen. Du drückst dich von innen heraus aus."