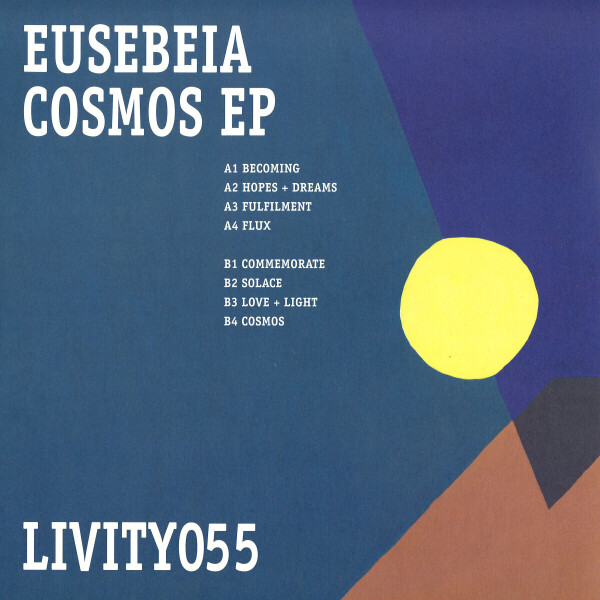 To order please add to basket and proceed to check out
description
The latest release on Livity Sound features an extensive insight into the work of Seb Uncles, aka Eusebeia. Uncles has been releasing his work prolifically over the past six years, from self-released tapes on Rebellion Electronics through to reams of 12"s and LPs for labels like Earthtrax, Western Lore, Rupture London and re:st. While his sound has often tilted towards drum & bass and jungle, he places atmosphere and composition ahead of genre boundaries and tempo restrictions.

Cosmos EP finds Uncles stretching out over eight varied tracks for a broader experience compared to the usual Livity EP. Glacial ambience and richly layered synthesis guides the record overall, at times leaving drums behind altogether, but even at its mellowest you can sense the overbearing bias towards soundsystem music. The melancholic electronica of 'Becoming' gets underpinned by dread bass, and 'Solace' places a haunting steppas-esque refrain in the midst of heavily dubbed downtempo. When he does turn to full-tilt drumfunk edits on the likes of 'Hopes & Dreams' and 'Love + Light', he approaches them with subtlety and finesse, matching rhythmic flair with melodic progressions which lend themselves to introspective listening as much as full dancefloor immersion.

Livity Sound is a label set up by Peverelist in 2011 as a vehicle for a raw and exploratory strain of UK techno, rooted in the heritage of UK dance music and sound system culture. It has since become one of the UK's foremost protagonists for cutting edge underground electronic music.
Drum & Bass
Eusebeia
Earthtrax
Drum & Bass
Eusebeia
Repertoire