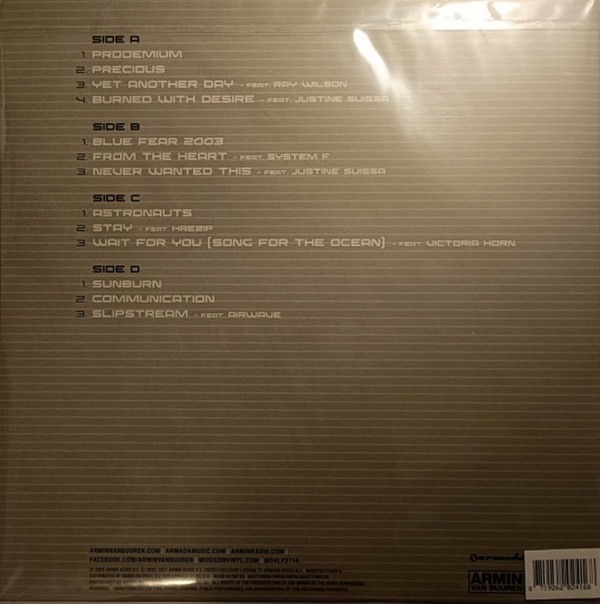 10.
Wait For You (Song For The Ocean)
---
description
High Quality, Gatefold Sleeve, Insert
¦ Audiophiles 180g Vinyl
• Black Vinyl Edition
• Deluxe-Gatefold-Cover mit Kontur-Lack-Veredelung
• Druckbeileger
• Geheime Inschrift im Bereich des Run-Out Groove (Auslauf-Rille)
• Debüt-Album vom 2003 mit den Tracks "Yet Another Day" (feat. Ray Wilson), "Burned With Desire (feat. Justine Suissa)", "Blue Fear" & "Stay (feat. Krezip)"

¦ "76" ist das Debüt-Studioalbum des niederländischen Trance-DJs Armin van Buuren. Benannt nach dem Geburtsjahr des DJs, wurde das Album kurz nachdem er die 100. Episode seiner Radioshow "A State of Trance" feierte veröffentlicht. Van Buuren wurde im selben Jahr vom DJ Mag zur Nummer 3 der DJs der Welt gewählt; eine Rangliste, die er insgesamt fünfmal anführen sollte. "76" enthält u.a. Kollaborationen mit dem schottischen Sänger Ray Wilson, der niederländischen Pop-Band Krezip, dem Trance-DJ Ferry Corsten und es gab die Zwei Single-Auskopplungen "Yet Another Day" und "Burned With Desire".