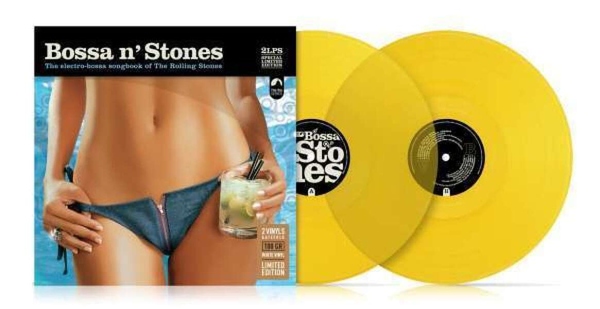 BOSSA N' STONES / Yellow Vinyl
2.
Let's Spend The Night Together
---
4.
Sympathy For The Devil (Pleased Remix)
---
6.
(I Can't Get No) Satisfaction
---
7.
Harlem Shuffle (Favela Remix)
---
9.
Miss You (Back 2 Remixes)
---
10.
Start Me Up / Brown Sugar (Remix)
---
12.
As Tears Go By (Luxury Strings Mix)
---
15.
Emotional Rescue (2 Many Beats Remix)
---
18.
Honky Tonk Women (Three Knocks Mix)
---
20.
She's So Cold (Ipanema@7" Mix)
---
21.
It's Only Rock 'N Roll (But I Like It)
---
22.
I'm Free (Wizard Edit)
---
23.
You Can't Always Get What You Want
---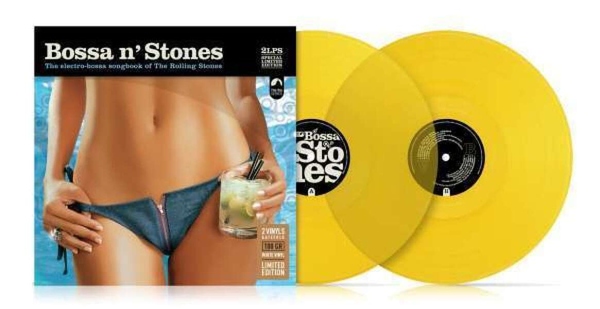 description
Coloured Vinyl, High Quality, Gatefold Sleeve
"Bossa N' Stones", die Kollektion, mit der 2006 das Phänomen der Bossa Nova Lounge begann, ist zurück und jetzt im LP-Format mit den besten und beliebtesten Songs der Serie. "Bossa N' Stones" präsentiert eine elektronisch angehauchte Bossa Nova-Auswahl vieler der größten Klassiker der Rolling Stones. Künstler wie Ituana, Michelle Simonal, Amazonics, Groove Da Praia, Sarah Menescal, Karen Souza und Corcovado Frequency verschmelzen die Musik der legendären Rolling Stones mit zeitgenössischer Elektronik und einem coolen Bossa-Nova-Einschlag.

Das Album enthält frühe Stones-Klassiker wie "Sympathy For The Devil" und "Paint It Black" sowie einige der 80er-Hits der Band, darunter "Harlem Shuffle" und "Mixed Emotions". Mit einem fantastischen Artwork ist Bossa N' Stones auf Doppel-Vinyl das unverzichtbare Album, das Sie brauchen, um Ihre "Bossa"-Sammlung zu vervollständigen.