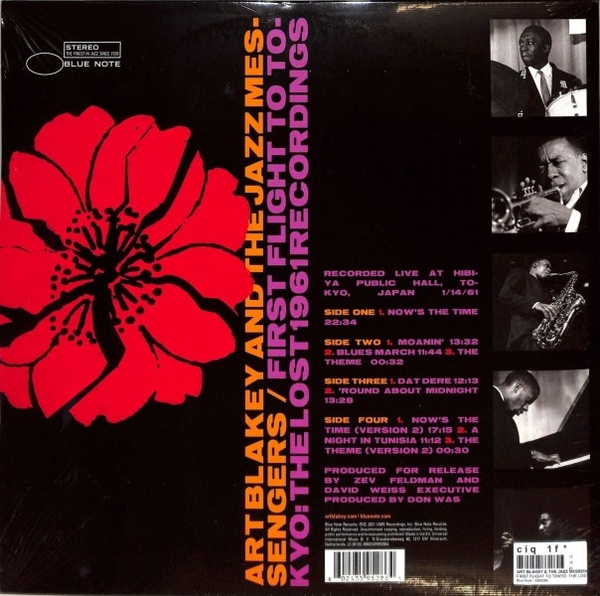 First Flight To Tokyo: The Lost 1961 Recordings
To order please add to basket and proceed to check out
7.
Now's The Time (Version 2)
---
description
+ Lee Morgan, Wayne Shorter, Bobby Timmons, Jymie Merritt
+ 6 Collector Postcards
*** Gatefold Cover

"First Flight To Tokyo: The Lost 1961 Recordings" fängt bisher unveröffentlichte Aufnahmen vom 14. Januar 1961 in der Hibiya Public Hall in Tokio von Schlagzeuglegende Art Blakey mit der klassischen Jazz Messengers-Besetzung Lee Morgan, Wayne Shorter, Bobby Timmons und Jymie Merritt ein, die die erste mit Spannung erwartete Tournee der Band nach Japan dokumentieren.

Neu übertragen von den originalen ¼"-Bandspulen. Das limitierte 2-LP 180-Gramm-Set und die Deluxe 2-CD-Edition werden mit aufwendigen Booklets geliefert, die seltene Fotos der japanischen Fotografen Shunji Okura und Hozumi Nakadaira aus dem persönlichen Archiv der Familie Blakey sowie Bilder aus dem originalen japanischen Tourneeprogramm von 1961 enthalten; ein historischer Essay des renommierten Jazzkritikers Bob Blumenthal; sowie neue Interviews mit der Jazz-Ikone Wayne Shorter im Gespräch mit Blue-Note-Präsident Don Was, dem gefeierten Blue-Note-Saxophonisten Lou Donaldson, dem japanischen Jazz-Star Sadao Watanabe, der renommierten japanischen Musikkritikerin Reiko Yukawa, Art Blakeys Sohn Takashi Blakey und einem Trio von Schlagzeug-Größen: Louis Hayes, Billy Hart und Cindy Blackman Santana.

"First Flight To Tokyo" wurde von Zev Feldman und dem Trompeter David Weiss koproduziert.