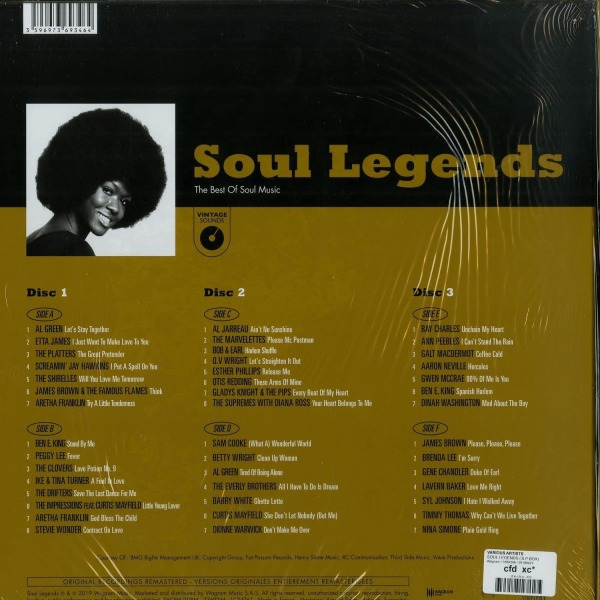 2.
I Just Want To Make Love To You
---
5.
Will You Love Me Tomorrow
---
7.
Try A Little Tenderness
---
12.
Save The Last Dance For Me
---
19.
Let's Straighten In Out
---
22.
Every Beat Of My Heart
---
23.
Your Heart Belongs To Me
---
24.
(What A) Wonderful World
---
27.
All I Have To Do Is Dream
---
29.
She Don't Let Nobody (But Me)
---
32.
I Can't Stand The Rain
---
38.
Please, Please, Please
---
43.
Why Can't We Live Together
---
description
Re-release Soul entwickelte sich gegen Ende der 1950er Jahre aus Rhythm'n'Blues, Gospel, Blues und Jazz. Im folgenden Jahrzehnt war Soul ein Synonym für schwarze Popmusik. Kennzeichnend dafür waren vor allem die Produktionen von Motown Records, zum Beispiel Diana Ross & The Supremes oder Sam Cooke. Seither sind herzergreifender Gesang und groovige Vibes die größten Stilmerkmale des Soul. Zu den weiteren Ikonen des Soul gehören Curtis Mayfield, James Brown, Aretha Franklin, Barry White, Sam Cooke, Al Green und viele mehr. Deren Erfolg ist eng mit dem Kampf der US-amerikanischen Bürgerrechtsbewegung gegen Rassentrennung und für Gleichberechtigung verbunden. 1969 benannte man die Rhythm'n'Blues- in Soul-Charts um. Der Soul-Orkan, der während der Sechziger in den Charts tobte, ebbte jedoch wieder ab, kam aber runderneuert in den 70ern als Phillysound wieder zu erneuten Hitparadenehren. 1982 änderte man die Chart-Bezeichnung von Soul in Black Music. Die vorliegende Kompilation vereint die legendären Stimmen des Soul mit ihren unvergesslichen Hits.