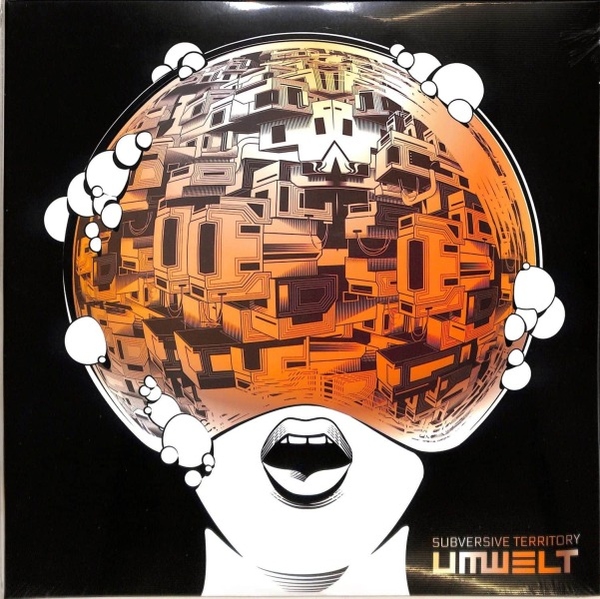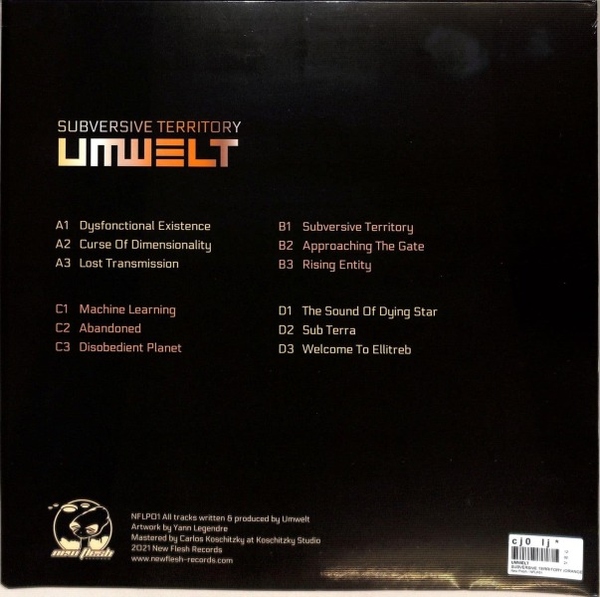 Subversive Territory [full colour trifold / orange
genre:
Electro / Electronic
1.
Dysfonctional Existence
---
2.
Curse Of Dimensionality
---
10.
The Sound Of Dying Star
---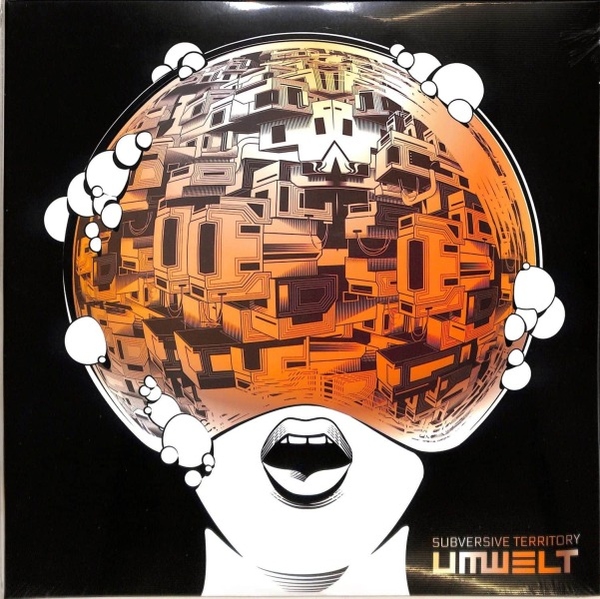 description
Brown Marbled Vinyl

Following many visionary outings such as "Inhuman Series Vol 1.2.3.4" released on New Flesh Records in 2012, "Days of Dissent" released on Killekill in 2016 (repress soon) talking about the rebellion of the World and the moving "Abandon In Place" LP released on New Flesh Records in 2018 telling about the destruction of Earth by the Humans, French producer Umwelt presents his very first cinematographic yet conceptual album on his own label New Flesh Records.

Titled "Subversive Territory", this much anticipated opus sees the founder of Rave Or Die imprint exploring a post-apocalyptic world via twelve haunting songs spreading their infectious melodies and gloomy atmosphere throughout.

Don't expect any beat here as this experimental-ambient manifesto will dive you into the famous tense and dystopian universe Umwelt is building year after year. As visual as auditive, this heartbreaking masterpiece comes illustrated by Yann Legendre. This French illustrator and art director is the father of numerous beautiful illustrations for magazines, books in the movie & music industries. He is the brillant creator of great comic "Flesh Empire" edited by Casterman in 2019.

Working on his forthcoming comic "Vega" anounced for 2022 by Albin Michel, Yann Legendre joined Umwelt for this perfect matching of two arts and two artists offering us this esthetic collaboration. At the end who can say who is illustrating who: the illustrator or the musician? "Subversive Territory" sounds like the perfect soundtrack of a frightening and nottoo-distant future where humanity has collapsed! Fans will appreciate to collect two coloured vinyls in a trifold sleeve.