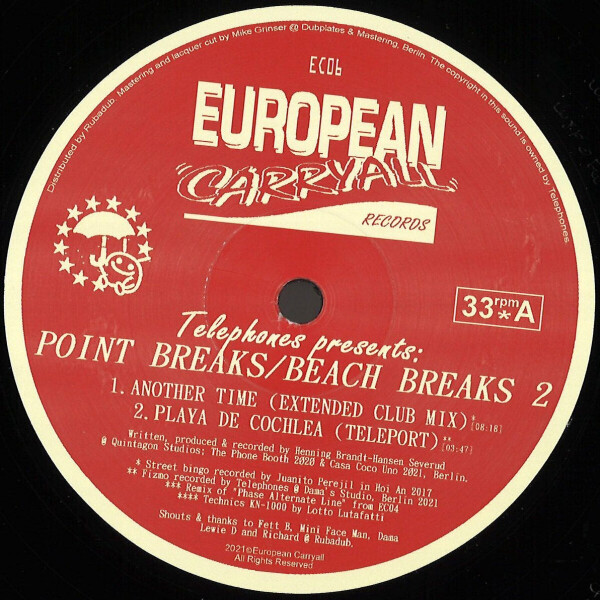 Point Breaks / Beach Breaks 2
1.
Another Time (Extended Club Mix)
---
2.
Playa De Cochlea (Teleport)
---
3.
Refshers (Doogie Street Dub)
---
4.
Dew Drops (Morning Dip Trip)
---
5.
Phase Alternate Life (Steppin' Dub)
---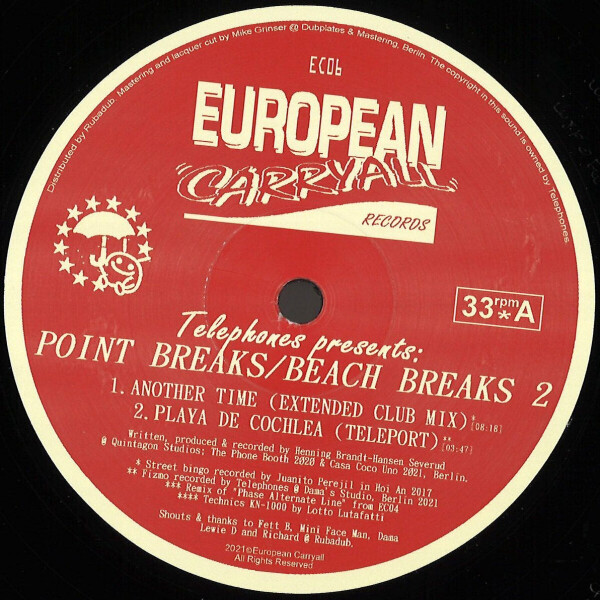 description
Returning to his much acclaimed "Point Breaks / Beach Breaks" series, Telephones kicks things off in a big way with the emotional-euphoric party jam "Another Time", sounding something like if The Avalanches covered Daft Punk, finally remixed by Pal Joey. Warp-driving us away from side A is "Playa de Cochlea", a tripped out full-spectrum ambient tsunami - a drexciyan UR-meets-Blade Runner beatless trip at high sea. Flip for the more chunky street-soul/breaks/hip-hop oriented track "Refshers", which could easily have been a lost Leftfield remix of Sade. "Dew Drops" wakes you up somewhere in the foilage of your jungle-life, before Telephones' literally steps up the game with his own "Steppin' Dub"-remix of "Phase Alternate Line" from EC04, bumping it into a four-four 2-steppish balearic rascal. Another tight European Carryall-essential straight from the source!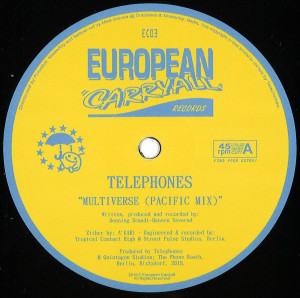 House
Telephones
European Carryall
€9.65