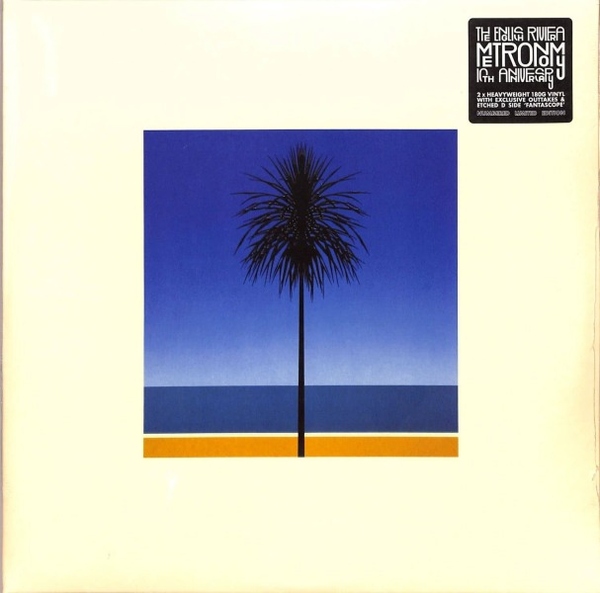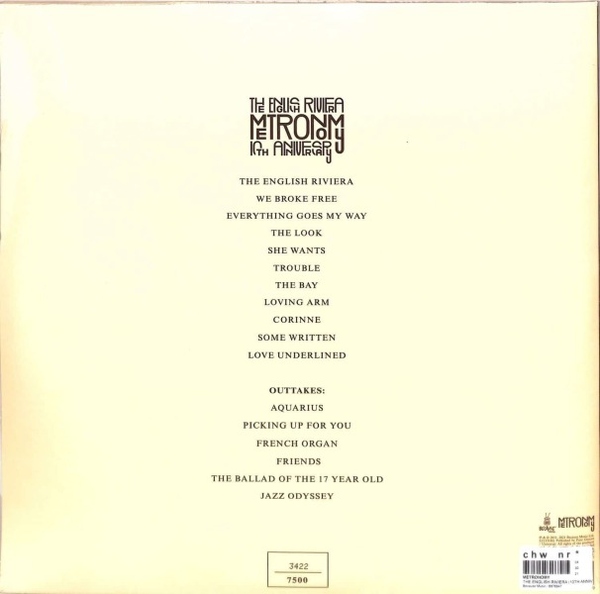 The English Riviera (10th Anniv. 2LP Reissue)
To order please add to basket and proceed to check out
3.
Everything Goes My Way
---
16.
The Ballad Of The 17 Year Old
---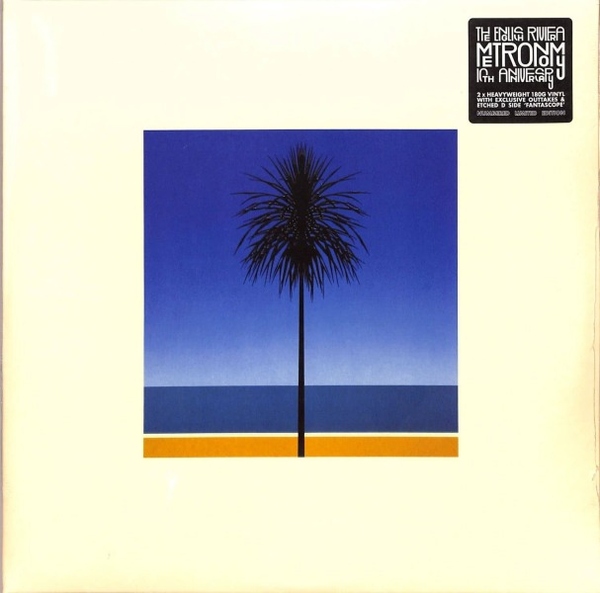 description
Das karriereverändernde Album "The English Riviera" von Metronomy wird zehn Jahre alt. Um dies zu
feiern, veröffentlicht die Band ihr beliebtes Album mit sechs bisher unveröffentlichten Bonustracks neu.
Die Wiederveröffentlichung wird als limitierte Doppelvinyl erhältlich sein.
Über das Jubiläum sagt Joe: "Meine erste Wohnung in Paris hatte einen fast komisch perfekten Blick auf
Montmartre und die Basilika Sacré-Cœur. Im Schatten der Sacré-Cœur, mit Barbès und dem Hügel von
Montmartre als Kulisse, saß ich eines Tages untätig da und schrieb, was einer der beliebtesten Songs von
Metronomy werden sollte."
"The English Riviera", Metronomys bisher größtes Album, wurde für den Mercury Prize nominiert, ist
in Großbritannien mit Gold und in Frankreich mit Platin ausgezeichnet worden und wurde bei seiner Veröf-
fentlichung von vielen Kritikern gelobt: Es wurde von NME auf Platz 2 der Alben des Jahres gewählt ("ein
tiefes Meer von Ideen und Fantasie"), von NYLON auf Platz 2, von Uncut auf Platz 3, von Mixmag auf
Platz 4 und von The Guardian auf Platz 7 ("ein sicheres, betörendes Album"), neben vielen anderen Listen
zum Jahresende. Die herausragende Tracks "The Look" und "The Bay" sind bis heute Metronomys größte
und bekannteste Songs.