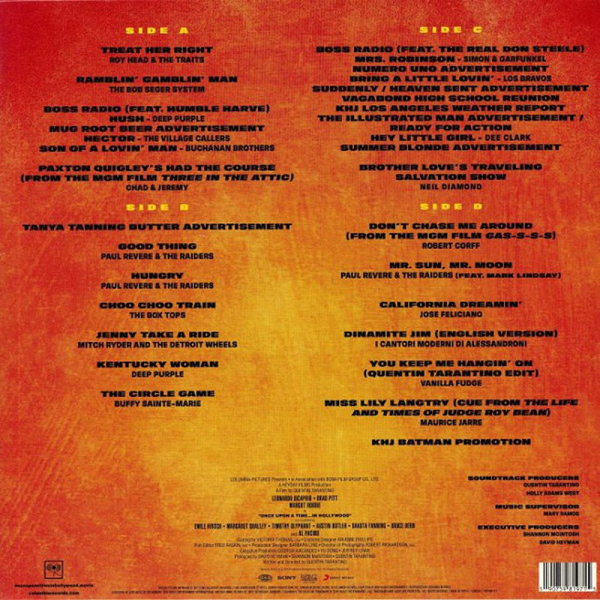 Once Upon A Time In Hollywood (OST)
To order please add to basket and proceed to check out
5.
Mug Root Beer Advertisement
---
8.
Paxton Quigley's Had The Course
---
9.
Tanya's Tanning Butter Advertisement
---
18.
Numero Uno Advertisement
---
19.
Bring A Little Lovin'
---
20.
Suddenly / Heaven Sent Advertisement
---
21.
Vagabond High School Reunion
---
22.
KHJ Los Angeles Weather Report
---
23.
The Illustrated Man Advertisement / Ready For Action
---
25.
Summer Blonde Advertisement
---
26.
Brother Love's Traveling Salvation Show
---
27.
Don't Chase Me Around
---
30.
Dynamite Jim (English Version)
---
31.
You Keep Me Hangin' On (Quentin Tarantino Edit)
---
description
Am 15. August kommt der neue Film von Quentin Tarantino in die deutschen Kinos - "Once Upon A Time... In Hollywood" entführt den Zuschauer ins Hollywood des Jahres 1969, einer Zeit radikaler und grundlegender Veränderungen im US-Filmbusiness. Das neunte Werk des legendären US-Regisseurs und -Drehbuchautors erzählt die Geschichte von TV-Star Rick Dalton (Leonardo DiCaprio) und seinem langjährigen Stunt-Double Cliff Booth (Brad Pitt), denen es zunehmend schwerer fällt, sich in dieser Welt zurecht zu finden. Neben DiCaprio und Pitt finden sich im spektakulären Ensemble-Cast des Films u.a. auch Margot Robbie (als Sharon Tate), Damian Lewis (als Steve McQueen), Bruce Dern, Luke Perry, Dakota Fanning, Al Pacino, Tim Roth und Kurt Russell. Zu den Stars des Films zählt - wie man das von Tarantino kennt - auch ein mit viel Liebe zum Detail zusammengestellter Soundtrack, der seine Hommage an die letzten glanzvollen Tage der Goldenen Ära Hollywoods musikalisch angemessen begleitet. Mit dabei sind Songs von so bekannten Namen wie Deep Purple, Simon & Garfunkel, Neil Diamond und Paul Revere & The Raiders, aber auch Jingles und Spots, wie man es von Quentin Tarantinos Soundtracks kennt.