The Skipper (Remastered Reissue Vinyl LP
4.
Beauty And The Electric Tub
---
description
Obwohl es schwer ist, einen Gewinner aus dem geschätzten Black Jazz-Katalog zu wählen, würde diese Veröffentlichung von 1972 des Bassisten Henry "The Skipper" Franklin ganz oben auf der Liste stehen. Franklin begann mit dem Latin-Außenseiter Willie Bobo in der Mitte der 60er Jahre und spielte später mit The Three Sounds, aber sein wahrscheinlich bemerkenswerteste Auftritt vor diesem Debütalbum war seine Zeit in der Band von Hugh Masekela (Franklin spielt Bass mit Masekela auf dem Monterey Pop Festival 1967). Für "The Skipper" stellte Franklin eine erstklassige Band mit Bläsersektion, bestehend aus Trompeter/Flügelhornist Oscar Brashear (Bobby Hutcherson, Ry Cooder, Donny Hathaway) und Tenor- und Sopransaxophonist Charles Owens (Buddy Rich, Horace Tapscott, John Mayall), dem E-Pianisten Bill Henderson und dem Schlagzeuger-Ass Michael Carvin (Pharoah Sanders, Lonnie Liston Smith, Freddie Hubbard) zusammen. Dies ist eine so einzigartige, organische Aufnahme, dass es schwer ist, Vergleiche anzustellen; definitiv ein bisschen Fusion, ein bisschen 60er-Jahre-Blue-Note-Feeling und die übliche Black-Jazz-Reise zum lyrischeren, pop-inspirierten ("Little Miss Laurie") und funk-infizierten ("Plastic Creek Stomp"), aber der beste Vergleich ist vielleicht der mit Miles in den späten 60ern, bevor er elektrisch wurde. Auf jeden Fall ist "The Skipper" von Anfang bis Ende eine Freude zuzuhören, wunderbar aufgenommen von Black Jazz Produzent Gene Russell. Auch als erstmalige LP-Wiederveröffentlichung!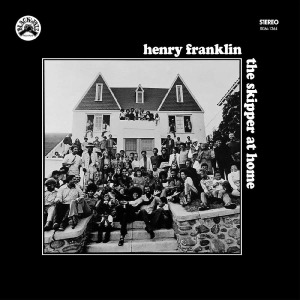 Jazz
Henry Franklin
RGM/Real Gone Music
€26.99