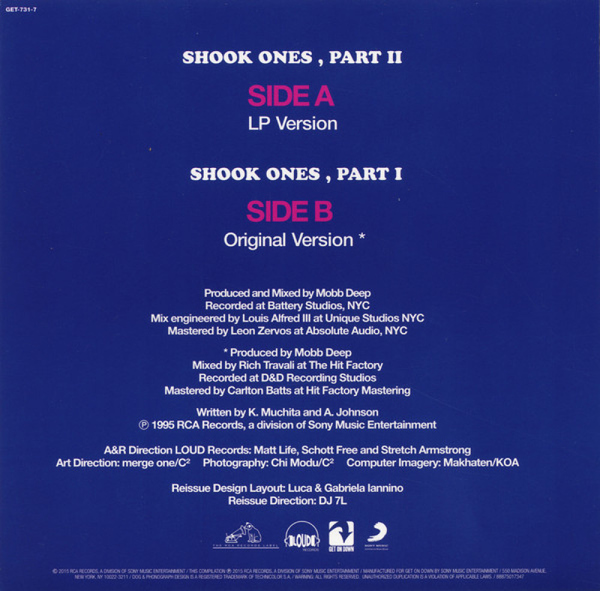 Shook Ones Pt.1&2 (7" Repress)
To order please add to basket and proceed to check out
1.
Shook Ones, Part II (LP Version)
---
2.
Shook Ones, Part I (Original Version)
---
description
Repress!

SIDE A: SHOOK ONES (PT. II) SIDE B: SHOOK ONES (PT. I) /

"Shook Ones Part II" might be one of the biggest records to come out of New York in
the mid 90's. From the moment you hear the bare hi-hat and the infamous line "to all
the killers and the hundred dollar billas" it is an immediate adrenaline rush. The beat
alone is a work of art, Havoc constructed what would go on for years as "how did he
actually come up with that beat?!" amongst DJ's and Producers alike. The infectious
piano, cinematic sirens, it was no doubt that it was one of (famed New York nightclub)
The Tunnel's most signature records. As Cipha Sounds put it - "How could it not rip
in The Tunnel? Just classic. 'Shook Ones Part I' was actually pretty big in the Tunnel,
but 'Part II' ripped everything." When "Shook Ones Part II" came you couldn't help
but nod your head and get lost in Havoc and Prodigy trading verses breaking down
the meaning of a crook…making you shook son. Not to be left out "Shook Ones Part
1" is on the flipside that came out months earlier with a much more subdued beat and
slightly different lyrics. Most 12" aren't built like this, so to be on 7" for the first time
ever this is a must have….son.