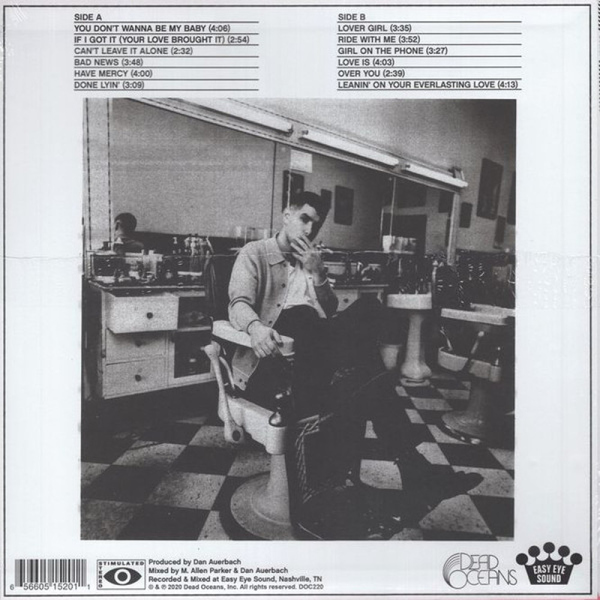 1.
You Don't Wanna Be My Baby
---
2.
If I Got It (Your Love Brought It)
---
12.
Leaning' On Your Everlasting Love
---
description
Für sein treffend betiteltes Solo-Debütalbum "Introducing..." hat Aaron Frazer mit Dan Auerbach von The Black Keys zusammengearbeitet. Soft spoken und mit dem Aussehen eines leicht unzufriedenen Matinee-Idols aus den 1950er Jahren gesegnet, besitzt Frazer eine einzigartige Stimme, die sowohl zeitgemäß als auch zeitlos klingt. Der in Baltimore aufgewachsene, zurzeit in Brooklyn lebende Songwriter wurde als Schlagzeuger und Co-Vokalist von Durand Jones & The Indications bekannt. Jetzt tritt er mit "Introducing..." als Solist hinter dem Drumkit hervor und demonstriert nicht nur seine beeindruckenden stimmlichen Qualitäten, sondern auch sein Können als hochklassiger Songschreiber. Schon die erste Single "Bad News" sorgte für Aufsehen ("a gorgeous piece of vintage R&B" - CLASH), die sich anschließende Lead-Single "Over You" ist inspiriert von elektrisierenden Northern Soul 45s der 60er Jahre. Nur zwei Belege der erfolgreichen Zusammenarbeit zwischen Frazer und Auerbach. Die zwölf Songs auf "Introducing..." verbinden gekonnt den Soul der 70er Jahre mit Dan Auerbachs besonderer Sensibilität für Vintage-Sounds im neuen Gewand. "Introducing..." enthält klassische Message-Songs im Stil von Künstlern wie Gil Scott-Heron sowie motivierende Liebeslieder, die von Disco-, Gospel- und Doo-Wop-Einflüssen durchzogen sind. Das gesamte Album wurde innerhalb nur einer Woche in Auerbachs berühmten Nashville-Studio nach einer schnellen und produktiven Songwriting-Session aufgenommen. Auerbach holte auch den legendären Songwriter und Falsettspezialisten L. Russell Brown (schrieb früher Hits für Frankie Valli von The Four Seasons) an Bord, der den wunderschönen Opener "You Don't Wanna Be My Baby" auf dem Album mitkopmponierte. Für "Introducing..." rekrutierte Frazer eine beeindruckende Schar alteingesessener Session-Musiker aus Nashville. Darunter Mitglieder der legendären Memphis Boys.