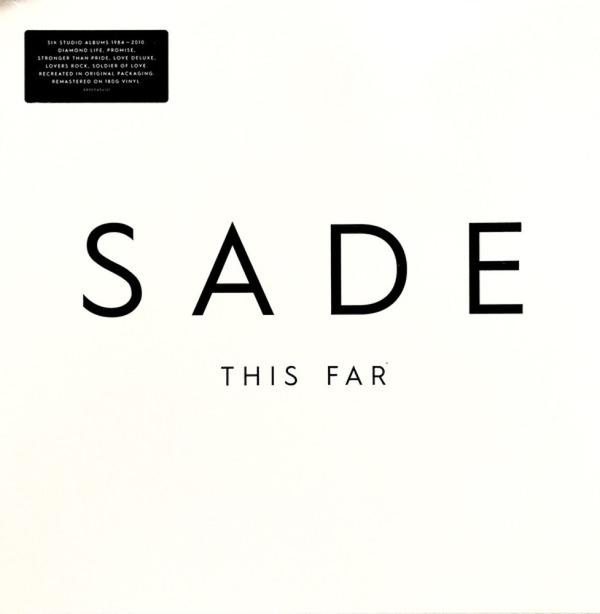 This Far (Ltd. 6 LP Boxset)
To order please add to basket and proceed to check out
5.
Frankie's First Affair
---
6.
When Am I Going To Make A Living
---
10.
Why Can't We Live Together
---
17.
Never As Good As The First Time
---
22.
Love Is Stronger Than Pride
---
24.
Nothing Can Come Between Us
---
30.
I Never Thought I'd See The Day
---
31.
Siempre Hay Esperanza
---
35.
I Couldn't Love You More
---
46.
Somebody Already Broke My Heart
---
53.
It's Only Love That Gets You Through
---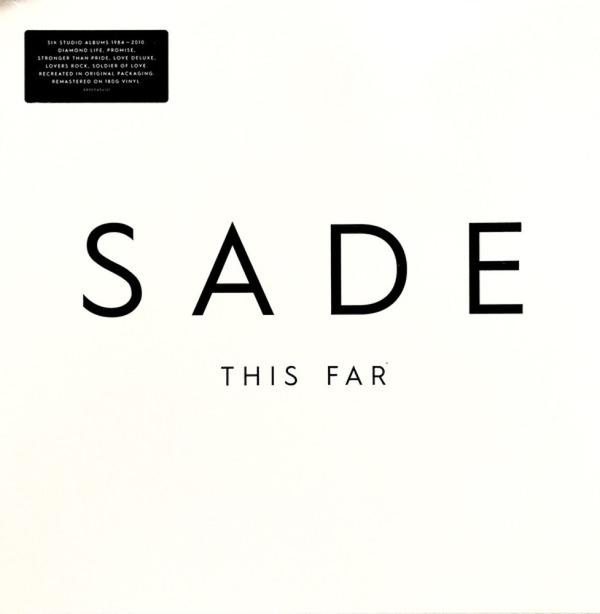 description
Dieses Boxset enthält neu gemasterte Versionen aller bisherigen Studioalben von Sade auf reinem schwarzen 180-Gramm-Vinyl - die erste vollständige Sammlung ihrer Studioarbeit bis zum heutigen Tag. Alle sechs gefeierten Alben der Band: Diamond Life" (1984), "Promise" (1985), "Stronger Than Pride" (1988), "Love Deluxe" (1992), "Lovers Rock" (2000) und "Solder Of Love" (2010) sind in der wunderschön verarbeiteten, weißen Kartonverpackung verpackt. Bei der Überarbeitung des Audios arbeiteten die Band und Miles Showell von hochauflösenden digitalen Übertragungen der Stereo-Master-Mischungen aus den Original-Studioaufnahmen, die in den Abbey Road Studios mit halber Geschwindigkeit remastert wurden. Der aufwändige Mastering-Prozess bei halber Geschwindigkeit hat einen außergewöhnlich sauberen und detaillierten Ton erzeugt, ohne den von der Band beabsichtigten Klang zu beeinträchtigen. Beim Mastering-Prozess wurde kein zusätzliches digitales Limiting gebrauchen können, so dass die sechs Alben von dem Vorteil zusätzlicher Klarheit und reiner Klangtreue profitieren und der Dynamikumfang der Originalmischungen zum allerersten Mal erhalten bleibt. Die sechs Albenhüllen wurden akribisch und detailgetreu mit authentischem Papier und Druckverfahren reproduziert und zum ersten Mal seit ihrer ursprünglichen Veröffentlichung perfekt nachgebildet.

Wichtig ist, dass das Boxset zwar sechs Alben (insgesamt 58 Titel) umfasst, die Box selbst jedoch Platz für sieben Alben bietet, einschließlich einer Schaumstoffeinlage mit einem lasergeätzten Fragezeichen. Der Titel This Far deutet auch an, dass die Arbeit der Band möglicherweise nicht vollständig ist...".