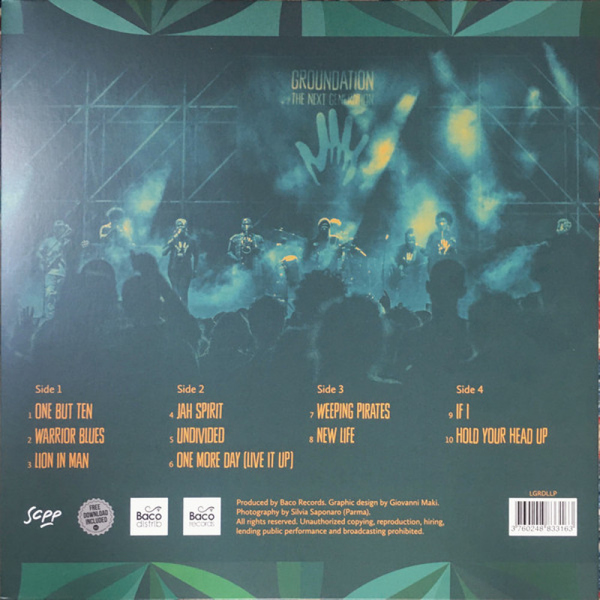 The Next Generation Live (2LP)
6.
One More Day (Live It Up)
---
description
Die Kalifornier GROUNDATION sind seit 21 Jahren aktiv und inzwischen eine Legende ihres
Genres, stehen wie keine andere Band für die Verbindung von Roots Reggae mit Jazz und
progressiven Elementen. Seit ihrer Gründung hat sich die Formation eine zahlreiche weltweite
Anhängerschaft erspielt, neun Studioalben veröffentlicht und mit zahlreichen Legenden der
jamaikanischen Szene wie DON CARLOS, THE CONGOS, PABLO MOSES, JUDY MOWATT,
MARCIA GRIFFTHS oder RAS MICHAEL kooperiert. 2018 präsentierte sich die Band, bis auf
Sänger und Mastermind HARRISON STAFFORD vollständig mit jungen Musikern der
Sonoma State University neu besetzt - mit dem programmatisch betitelten Album "The Next
Generation". Die nächste Generation brachte neben viel Energie auch Einflüsse aus Funk,
Latin und Afrobeat mit. Auf der folgenden Europatour wurden die hier vorliegenden zehn
Songs am 17. und 18. Juni bei den Auftritten im italienischen Parma mitgeschnitten und später
von Produzent JIM FOX in seinen LION & FOX Studios wie gewohnt in klangliche Perfektion
überführt. Obwohl der Schwerpunkt der Shows auf dem neuen Material lag, finden sich hier
auch Klassiker wie "Weeping Pirates", "One More Day (Live It Up)" oder "Undivided" in den
Versionen den neuen Bandbesetzung. Roots-Tipp!
Reggae
Groundation
Baco Records
€29.99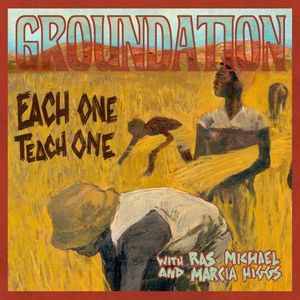 Reggae
Groundation
Baco Records
€29.99