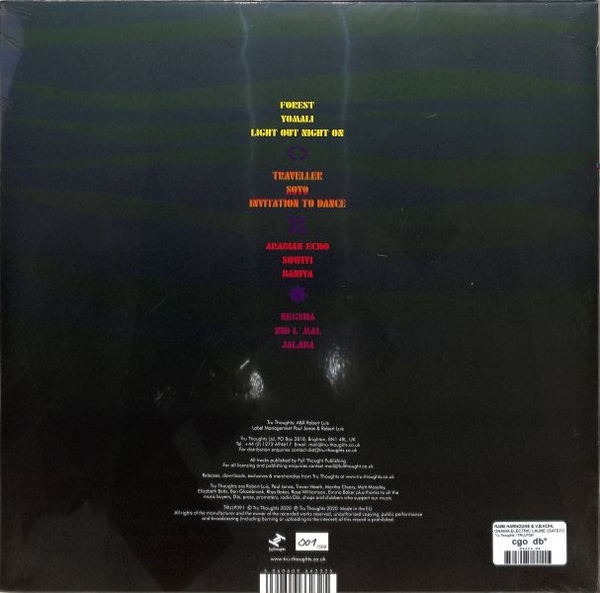 Gnawa Electric Laune (Gatefold 2LP)
genre:
Electro / Electronic
description
'GNAWA ELECTRIC LAUNE' is the magical collaboration between Moroccan Gnawa-master (maâlem) Rabii Harnoune and Frankfurt electronic producer V.B.Kühl. Recorded at Achim Sauer's 7V-Studio, collectively Rabii Harnoune & V.B. Kühl have produced an LP which represents entirely new territory, building a bridge from old to new, from Africa to Europe, and from to person to person. This melange of traditional North African Gnawa music and modern club sounds results in a fascinating debut, cross-cultural friction which is electric and otherworldly.

"Traveller" (out 19th March) is the first offering from the album, a tale that belongs to the repertoire of "L'Bouhala", a story which roughly translates as symbolism for multiculturism in Gnawa culture. "Traveller" is a Gnawa-club fusion track that feels equally at home on the dancefloor as it does in its core spiritual home. "The traveller is a character in the culture of Gnawa" Rabii explains, "who is travelling from tribe to tribe, from village to city, looking for experiences and knowledge, then sharing it by singing about it".

Gnawa music is among Morocco's richest and oldest continuous traditions, dating back to pre-Islam. Rabii Harnoune joined the Kotab, a place where one can learn the teaching of the Quran, at the age of four. Growing up on a household diet of classical Arabic, Moroccan and Sufi music, Rabii was first introduced to Gnawa through his neighbour's uncle who was a master in the genre. "Gnawa music was exclusively played by families whose parents came from Sub-Saharan or Central African tribes to Morocco in colonial times" Rabii explains, "it was rare to be able to listen to Gnawa music on radio, so I started to collect rare live recordings". Rabii's mastery at the Guembri, a three-string lute and Gnawa singing (a central aspect to the culture), would lead him to play world-class festivals in Essaouira, Fes, Marrakesh, and Casablanca – all spiritual centres for the genre.