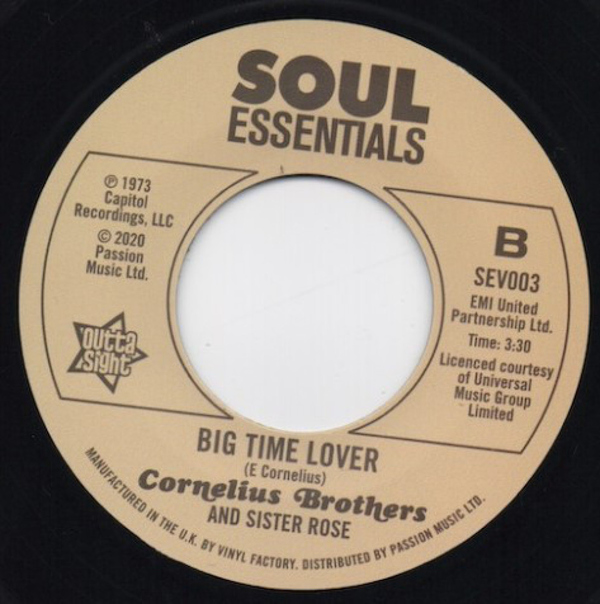 Too Late To Turn Back Now / Big Time Lover
To order please add to basket and proceed to check out
1.
Too Late To Turn Back Now
---
description
Hot on the heels of our New Year's smash, "Someday" by The Tempests, Outta Sight proudly presents the Cornelius Brothers and Sister Rose with their two most requested sides… back-to-back for the very first time!!!
The group formed in 1970 in their home town of Dania Beach, Florida. Original members were siblings Carter, Eddie and Rose Cornelius and friend Cleveland Barrett who was tragically killed in a car crash before they hit the charts. In mid-1970 they released their first single "Treat Her Like A Lady" which went to #3 on the U.S. Hot 100 earning the trio a Gold Disc. The follow-up single, "Too Late To Turn Back Now" (featured here),faired even better, hiting #2 on 22nd July 1972 scoring a second Gold Disc. Both tracks featured on their self-titled debut LP, a top 30 Pop hit in '72. Despite the huge Stateside success of "Too Late To Turn Back Now" it failed to hit in the U.K. and even at the time, it resonated more with the easy-listening MOR audience than the soul fraternity who were tuned in to the harder-edged funky grooves of the likes of Isaac Hayes and Curtis Mayfield. It wasn't until the Nineties that the Cornelius family finally caught the imagination of the U.K. rare soul scene and have remained a turntable favourite ever since.

Our chosen B-side, "Big Time Lover", is the title track from the group's second album released in 1973 and, wonderful as it is, it failed to break the Hot 100, and only dented the R&B Charts peaking at #88. Again, it was completely ignored by the U.K. and yet today it is the more popular of the two sides. Ironically, both original United Artist singles are actually quite hard to find in the U.K., despite the Gold Disc status of "Too Late To Turn Back Now". A quick look on 'discogs' reveals only one copy currently available and zero copies of "Big Time Lover"!