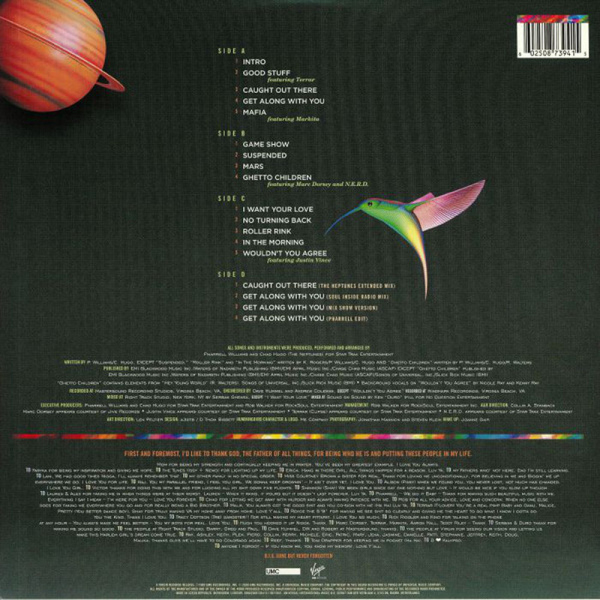 15.
Caught Out There (The Neptunes Extended Mix)
---
16.
Get Along With You (Soul Inside Radio Mix)
---
17.
Get Along With You (Mix Show Edit)
---
18.
Get Along With You (Pharrell Edit)
---
description
"Kaleidoscope" ist das erste Studioalbum der amerikanischen Sängerin und Songwriterin Kelis.
Es wurde am 7. Dezember 1999 veröffentlicht und vollständig von The Neptunes (Pharrell
Williams & Chad Hugo) produziert. Das Album hat sich auf den internationalen Märkten gut behauptet
und wurde in UK sogar mit Gold ausgezeichnet. "Kaleidoscope" enthält unter anderem die drei
Hitsingles - "Caught Out There", "Good Stuff" und "Get Along with You".
Neben der Produktion des Albums sind Williams und Hugo auch auf dem Albumtrack "Ghetto
Children" zu hören, bei dem Slick Rick als Co-Autor mitwirkte. Zu den Gastauftritten des Albums
gehören auch Pusha-T, Markita & Justin Vince.
Zur Feier des 20-jährigen Bestehens des Albums unternimmt Kelis eine Tournee durch Großbritannien
und Europa und veröffentlicht eine Doppel-LP auf orangefarbenem Vinyl. Diese
Vinyl-Wiederveröffentlichung wird vier alternative Versionen der Titel "Caught Out There" und "Get
Along With You" enthalten, alle zum ersten Mal auf Vinyl.