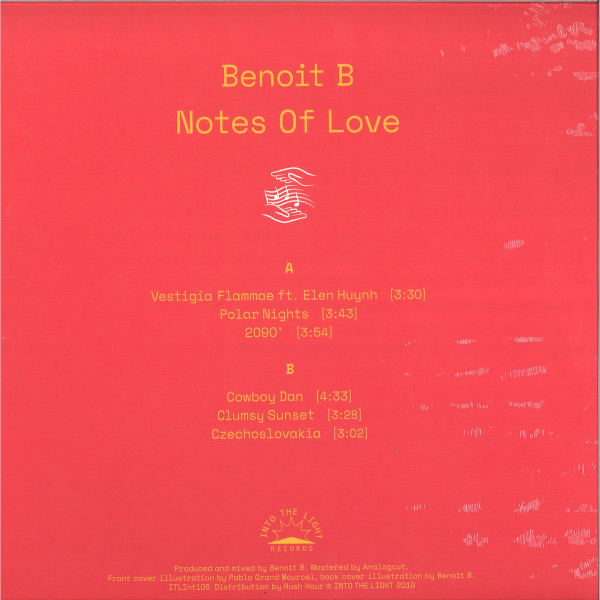 NOTES OF LOVE
genre:
Electro / Electronic
To order please add to basket and proceed to check out
1.
Vestigia Flammae Feat. Elen Huynh
---
description
Following a trip into the heart of Max Santilli's Sydney studio, Into The Light Records' 'international' series returns to Europe for an audience with former Peur Bleue, Versatile and Wisdom Teeth contribitor Benoit B.

The Berlin-based producer has previously won praise for his atmospheric and evocative approach to electronic music, which priorities melody, texture and vibe over form and function. "Notes of Love", his first EP for Into The Light, was deliberately designed as a "soft journey for the ears", with Benoit B opting to layer up only the most essential musical elements in order to guarantee sparkling, crystal clear sound and an overriding clarity of purpose.

Even so, the six tracks are still stylistically eclectic. Compare and contrast the sunrise-ready new age synthesizer melodies, bustling synth-bass, Fairlight style stabs and shuffling breakbeats of "2090", the Vangelis Katsoulis style bliss of "Polar Nights", the Art of Noise style ambient collage that is "Czechoslovakia" and the intergalactic, post-electro pulse of "Cowboy Dan", whose rubbery synthesizer lines and electronic motifs somehow manage to be both funky and foreboding. Yet for all of these stylistic twists, "Notes of Love" is a coherent statement of intent from a producer whose personal musical vision remains as clear as ever.