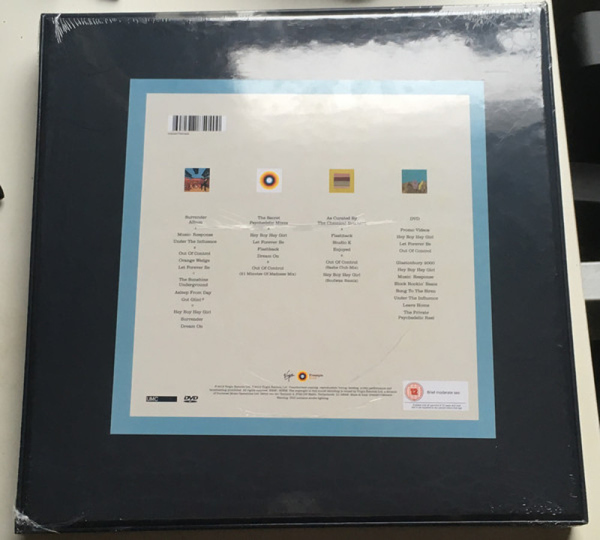 Surrender 20 (Ltd. Anniv. Edition 4LP+DVD)
To order please add to basket and proceed to check out
7.
The Sunshine Underground
---
13.
The Secret Psychedelic Mixes
---
18.
Out Of Control (21 Minutes Of Madness Mix)
---
19.
As Curated By The Chemical Brothers
---
23.
Out Of Control (Sasha Club Mix)
---
24.
Hey Boy Hey Girl (Soulwax Remix)
---
36.
The Private Psychedlic Reel
---
description
The Chemical Brothers feiern das 20-jährige Jubiläum ihres 1999 veröffentlichten Klassikers
"Surrender". Das Album, welches u.a. die Singles "Hey Boy Hey Girl" oder "The Sunshine
Underground" beinhaltet, erhielt zahlreiche Preise und markierte den internationalen Durchbruch der
Band. Zum Jubiläum erscheint das Album als Doppel CD, als Deluxe 3fach CD und Deluxe 4fach LP.
Die Doppel CD im Digipack beinhaltet neben dem Original Album auf CD 1 auch bisher veröffentlichte
Mixe, u.a. von KiNK. Die Deluxe 3fach CD enthält das Original Album (CD 1), bisher unveröffentlichte
Mixe (CD 2) und rare B-Seiten. Die Deluxe Versionen enthalten zusätzlich eine DVD, ein 24-seitiges
Buch von und 4 Kunstprints von Kate Gibb, die auch das Cover gestaltet hat. Die DVD enthält neben
überarbeiteten Videos auch bisher unveröffentlichtes Footage vom Live-Auftritt der Chemical Brothers
beim Glastonbury Festival in 2000.