To order please add to basket and proceed to check out
5.
At The Top Of The Hill, They Stood...
---
6.
Pythagoras On The Line Again
---
7.
The Life Of An Emperor
---
description
Zwischen Minimalismus und Surrealismus entschwebt das wundervolle"Handfuls of Night" in antarktische Klangwelten. Der neue Longplayer von Penguin Cafe (dem Nachfolger des legendärenPenguin Cafe Orchestra) ist von der Antarktis inspiriert - von der letztenExpedition, die Robert Falcon Scott dorthin unternahm, einer Reise, diePenguin-Cafe-Mastermind Arthur Jeffes selbst 2005 machte und den vierPinguin-Arten die dort leben und für die Greenpeace Arthur Jeffes denAuftrag erteilte, jeder ein eigenes Stück zu komponieren, um dasBewusstsein für die Gefährdung der Antarktis zu stärken. Eingespielt mitdarmbesaiteten Violinen, Bratsche, Cello, Bass, Percussion, Klavier undFlügel, Synthesizer, Harmonium und weiteren Instrumenten, habenPenguin Cafe eine Reihe von eindrucksvollen musikalischenPanoramaaufnahmen geschaffen. Die körnige Synthese von Klaviertönenlässt uns den Wind, die Eisdecken und Gletscher hören, die sich kaumwahrnehmbar aber doch unaufhaltsam bewegen. Sanft tauchen wir mitAdélie-Pinguinen durch Krill und Blasen in die dunkle Tiefe. "Handfuls ofNight" ist ein synästhetisches Fest, das intellektuellen Anspruch mitemotionalem Tiefgang vereint, kristallklare Folktronica- und Ambient-Stücke, die uns in unwirkliche Weiten versetzen, immer wieder tauchenrhythmische Wiederholungen auf, die sich ganz leicht verändern,angesiedelt zwischen Minimalismus, Krautrock und Klavier-Kaskaden. Soerschafft Arthur Jeffes eine kinetische Wirbelbewegung, die das Albumantreibt und es zu einer musikalischen Expedition macht, zu einemSpiegelbild jener tatsächlichen Reise, die den Longplayer inspiriert hat.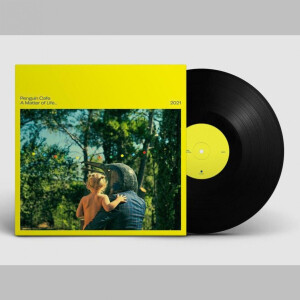 Jazz
PENGUIN CAFE
Erased Tapes
€21.99
Electro / Electronic
Penguin cafe
Erased Tapes
€20.99
Unknown
Penguin Cafe
Penguin Cafe
€14.29