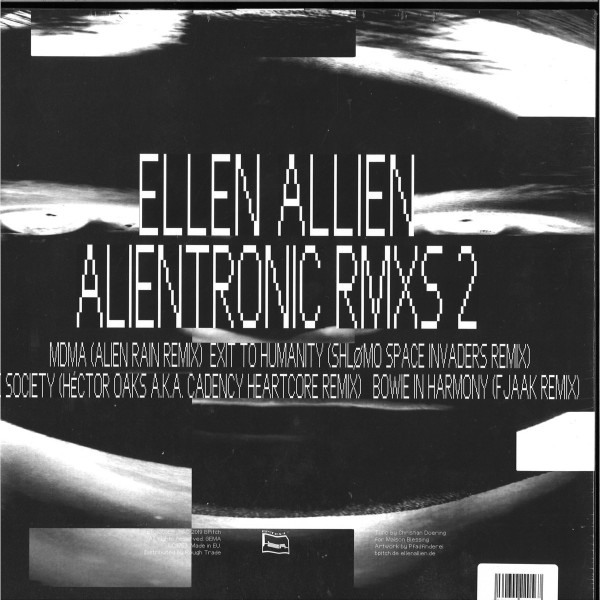 To order please add to basket and proceed to check out
1.
Mdma (Alien Rain Remix)
---
2.
Exit To Humanity (Shlømo Space Invaders Remix)
---
3.
Free Society (Hector Oaks A.k.a. Cadency Heartcore Remix)
---
4.
Bowie In Harmony (Fjaak Remix)
---
description
Weiterhin brutzelnd heiß kommt dieses Remix-Paket mit vier neuen Mixen von einigen der talentiertesten Künstlern der Szene, wie Alien Rain und Shlømo sowie Hector Oaks und Fjaak: Alien Rain hat sich "MDMA" vorgenommen und stellt eine riesige, von den 90er Jahren inspirierte Synthie-Line hin, die für Aufruhr sorgen wird. Das Riff ist moduliert, verdreht und verzerrt und steigert sich zum Ende des Tracks hin stetig in den totalen Wahnsinn. Als nächstes ist Shlømo dran mit seinem Remix von "Exit To Humanity". Die Drums gehen tribalesk aufs Ganze und geben diesem Track eine raue Energie. Ein kurzer Break leitet in den Hauptteil, der dann mit unerbittlich strahlender Synth-Line bis zum Ende leuchtet. Hector Oaks folgt mit seiner Version von "Free Society" unter seinem Cadency Alias. Sein kolbengetriebener Mix macht mit hypnotischer Macht keine Gefangenen. Ellens ursprüngliches Riff wird mit Hectors erfinderischem Instrumental zu großer Wirkung gebracht. Die berüchtigten 420 Liebhaber FJAAK schließen die Veröffentlichung mit ihrer pochenden Neuinterpretation von "Bowie In Harmony" ab. Bei dieser Überarbeitung schickt eine kraftvolle Bassline ein Zittern über die Erdoberfläche, während sich bedrohliche Säure im Hintergrund ergießt.