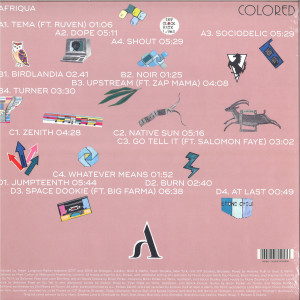 Colored (Pink Vinyl 2LP)
genre:
Electro / Electronic
description
Berlin-based producer Adam Longman Parker announces Colored, hisfirst full-length LP as Afriqua for R&S Records. The album is a celebration of the unifying power of Black culture throughthe prism of electronic music. After releasing successful singles "Soul Correction," and "Chronic Cool,"and the back-to-back Aleph and Vice/Principle EPs, a full-length albumwas the ideal format for Parker to expand on the sounds typified in hisdancefloor productions. Colored is a natural culmination of Parker'sstylistic spectrum, spanning from house and techno to experimental andabstract electronica.