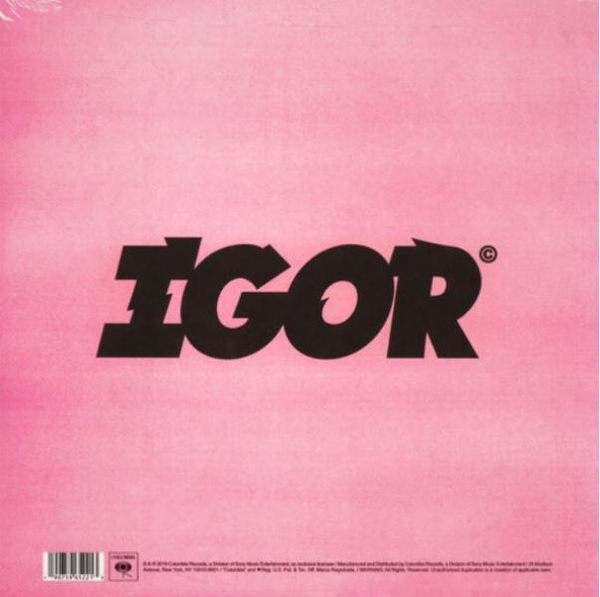 1.
A1 Igor's Theme Feat. Lil Uzi Vert
---
2.
A2 Earfquake Feat. Playboi Carti
---
3.
A3 I Think Feat. Solange
---
4.
A4 Exactly What You Run From You End Up Chasing
---
5.
A5 Running Out Of Time
---
8.
B2 Puppet Feat. Kanye West
---
10.
B4 Gone, Gone / Thank You
---
11.
B5 I Don't Love You Anymore
---
12.
B6 Are We Still Friends? Feat. Pharrell Williams
---
description
Auch das neueste Album von Tyler ist Dokument seiner stetigen Weiterentwicklung als Künstler. Er ist nicht nur Rapper, Produzent, Modemacher, er ist auch Musiker und Musikfan, der aus seinem großen Genre-Fundus schöpft, dem er seit seiner Kindheit offen gegenüberstand. Auf "Igor" platzt er mit diesem Background und voller Schaffensfreude aus dem Verschrobener-Skater-Rapper-Image heraus und das wurde mit einem Einstieg in die Billboard Top 200 auf Platz 1 gewürdigt, wobei das generell ja nichts heißen mag, aber in diesem Fall ist es schon bemerkenswert und ein klares Zeichen für eine wachsende Akzeptanz von queeren MCs. Ihm hier gleich Vorsatz zu unterstellen, wäre nicht ganz fair, handelt es sich hier keinesfalls um eine Popversion von Tyler, the Creator. Er ist eben nicht "nur" ein Rapper, er ist alles, was er gerade ist, wenn er es will.