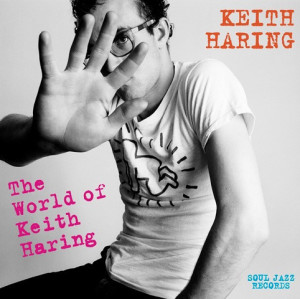 The World Of Keith Haring (3LP)
7.
Over And Over (12" Disco Mix)
---
11.
Weekend (Larry Levan Mix)
---
12.
Cut It Up High Priest
---
13.
The Guardian Angel Is Watching Over Us
---
description
Soul Jazz Records are releasing this stunning new collection, The World of Keith Haring, featuring music influential to the artist Keith Haring.
The art of Keith Haring is today one of the most recognisable of any visual artists of his generation, defining 1980s New York during an intense period when downtown artists and musicians collaborated like never before.àHaring's musical inspiration took in the punk/dance downtown sounds of clubs like The Mudd Club, underground disco at Larry Levan's Paradise Garage, as well the early days of hip-hop and electro.
The album is released to coincide with the opening of the first major exhibition in the UK of Keith Haring's work at Tate Liverpool and which runs for the next six months. Haring's many friends included Jean-Michel Basquiat, Andy Warhol, Madonna, Fab Five Freddy, William Burroughs, Jenny Holzer, Yoko Ono, Grace Jones, Larry Levan, Futura 2000.
If you were looking for a person to guide you through the wide variety of nightclub scenes of downtown New York in the 1980s, then Keith Haring would have been your man.