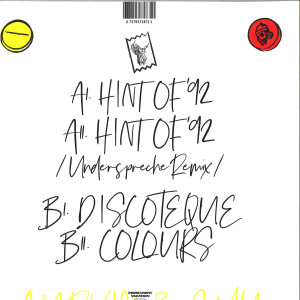 Hint Of '92
genre:
Electro / Electronic
2.
Hint Of '92 (Underspreche Remix)
---
description
Zweite EP des Italo-Duos Marvin & Guy auf Permanent Vacation. Der Titeltrack ist ein Tribut an die Früh-1990er Trance/Techno-Szene. "Discoteque" transportiert eine roughe, chunky, rocky, discoide Energie. Und "Colours" ist ein mentaler Trip, der die Idjut Boys stolz machen würde.