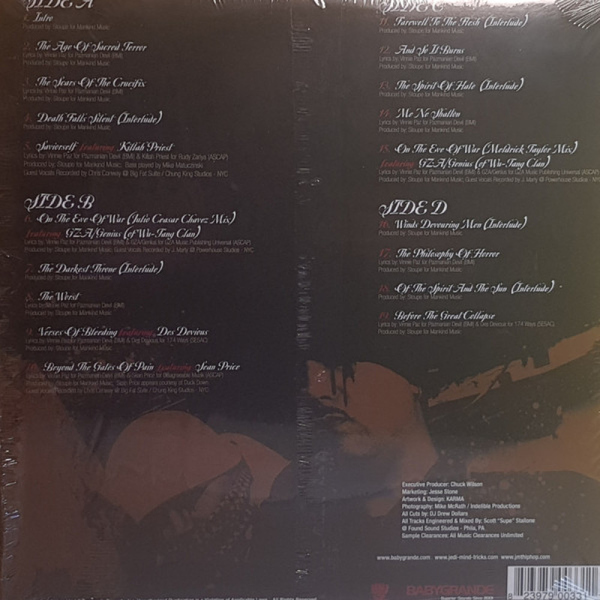 Legacy Of Blood (Ltd. Red Vinyl 2LP)
To order please add to basket and proceed to check out
2.
The Age Of Sacred Terror
---
3.
The Scars Of The Crucifix
---
4.
Death Falls Silent (Interlude)
---
6.
On The Eve Of War (Julio Caesar Chavez Mix)
---
7.
The Darkest Throne (Interlude)
---
9.
Verses Of The Bleeding
---
10.
Beyond The Gates Of Pain
---
11.
Farewell To The Flesh (Interlude)
---
13.
The Spirit Of Hate (Interlude)
---
15.
On The Eve Of War (Meldrick Taylor Mix)
---
16.
Winds Devouring Men (Interlude)
---
17.
The Philosophy Of Horror
---
18.
Of The Spirit And The Sun (Interlude)
---
19.
Before The Great Collapse
---
description
Coming off the success of 2003's "Visions of Gandhi," Jedi Mind Tricks returned with the much anticipated follow-up release, "Legacy of Blood." "Legacy of Blood" features heavyweight guest appearances from GZA/Genius (Wu-Tang Clan), Sean Price, Killah Priest, among others. The album showcased group's commercially-minded artistic maturation, without foregoing the unbridled intensity that has come to define their aggressively stylized hip-hop. After years of being out-of-print, Babygrande Records has for the first time ever remastered the album on Limited Edition Red Vinyl.