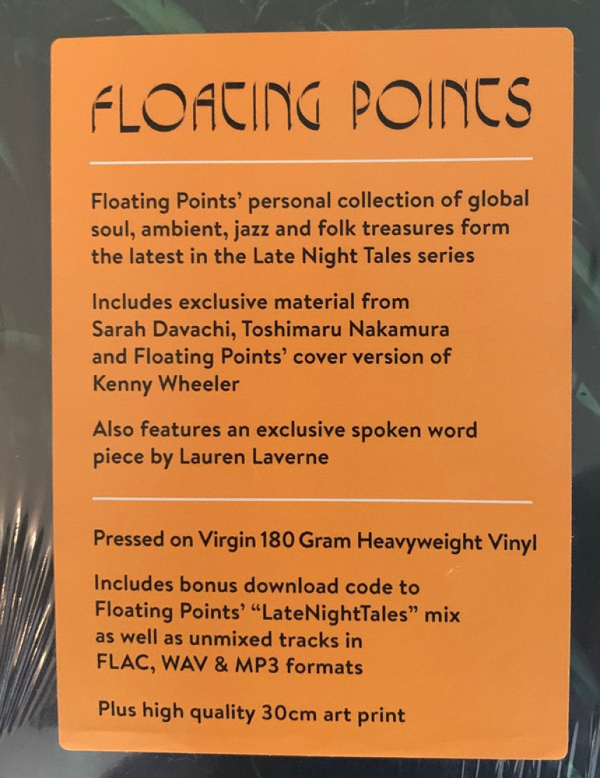 Late Night Tales (180g 2LP)
genre:
Electro / Electronic
1.
Untitled, Live In Portland (Excerpt)
---
8.
A Message Especially From God
---
12.
Moments In Love (Excerpt)
---
16.
The Sweet Time Suite. Part 1 - Opening
---
17.
Ah! Why. Because The Dazzling Sun
---
description
Sam Shepherd aka Floating Points' Musikgeschmack ist schwer zu definieren und bewegt sich zwischen den Polen aus himmlischer Klassik und glitzerndem Techno. Seine außergewöhnliche Karriere begann mit frühen Dance-Experimenten über die Zusammenarbeit mit dem legendären Gwana-Meister Mahmoud Guiia bis zu dem Ausnahmewerk "Elaenia", einem Jahreshighlight 2015. Seine "Late Night Tales" reflektieren diese Bandbreite, die er auf Trips rund um den Globus aus staubigen Läden in Brasilien bis zu Verkaufsständen in der Nähe seiner britischen Heimatstadt zusammengetragen hat. Die Ausgabe beinhaltet auch exklusive Stücke von Sarah Davachi und Toshimaru Nakamura, die obligatorische Coverversion (Floating Points vs. Kenny Wheeler) sowie das Spoken Word-Finale (von der britischen TV & Radio-Moderatorin Lauren Laverne).

"His music has a meditative quality and builds like a late-night set." – Guardian
"One of UK's finest producers." - The Quietus
"Renowned vinyl specialist." - FACT

Beide Tonträger erscheinen wieder in Topausstattung: CD als exklusives Mixset, inkl. Bonus-Download-Code mit allen ausgespielten Tracks in wav/mp3-Formaten, inkl. eines mehrseitigen Booklets mit persönlichen Liner Notes zu jedem Track im Pappschuber. 2LP als 180g Virgin-Vinyl-Pressung mit allen 17 ausgespielten Tracks, audiophil auf halber Geschwindigkeit gemastered, inkl. Bonus-Download-Code mit allen Tracks (einmal komplett ausgespielt, einmal als Mixset) in wav/mp3-Formaten, im Gatefold mit antistatischen Innentaschen plus Kunstdruck in 12" Größe.