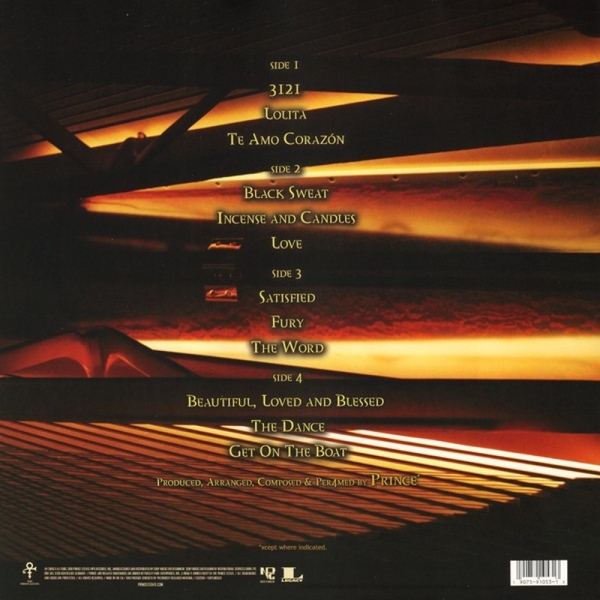 10.
Beautiful, Loved And Blessed
---
description
Das Nummer-Eins-Album 3121 wird erstmals überhaupt auf Vinyl erhältlich sein, in der ikonischen Prince Farbe Purple (Violett)!

Ursprünglich im Jahr 2006 veröffentlicht, ist diese Prince-LP ein wahres Bekenntnis in Sachen Groove. Angefangen beim zärtlichen »Te Amo Corazon« bis hin zum süchtig machenden Beat von »Black Sweat«.

Prince hatte schon immer ein Faible für bestimmte Zahlen und Zahlenkombinationen und zur Mitte der 2000er Jahre bekam die »3121« eine besondere Bedeutung. Damals wohnte Prince in L. A. und nannte die Villa, die er gemietet hatte, in der er Partys feierte und seine Songs aufnahm, der Hausnummer entsprechend »3121«. Diese vier Ziffern waren auch titelgebend für sein neues Album, das am 21. März 2006 auf den Markt kam. Die Lyrics des Titeltracks thematisieren die Party-Atmosphäre, die Prince in seinem Anwesen kultiviert hatte: »Through the gates / Knock on the door / Put your clothes in a pile, on the floor / Take your pick from the Japanese robes and sandals / Drink champagne from a glass, with chocolate handles.« Auf dem Longplayer geben sich Bandmitglieder aus der Vergangenheit die Ehre und neue zukünftige Weggefährten sind zu höeren: Auf dem Titeltrack sind mit Schlagzeuger Michael Bland und Bassist Sonny Thompson zwei Original-Mitglieder der New Power Generation zu hören, außerdem tritt auf 3121 erstmals ein musikalisches Ehepaar in Erscheinung, dass noch viele Jahre später zur Rhythmussektion von Prince gehören sollte: Joshua und Cora Coleman (a. k.a. C. C.) Dunham.

Der berühmte Saxofonist Maceo Parker und die jahrelange Wegbegleiterin Sheila E. sind ebenfalls mit von der Partie, genau wie Támar, eine Künstlerin, mit der Prince Anfang der 2000er Jahre eng zusammenarbeitete und die er 2006 sogar als Gitarrist auf Tour begleitete. Weil 3121 kurz nach Musicology bei einem Major-Label erschien, wird diese LP gemeinhin zu seinem »Comeback« gezählt.