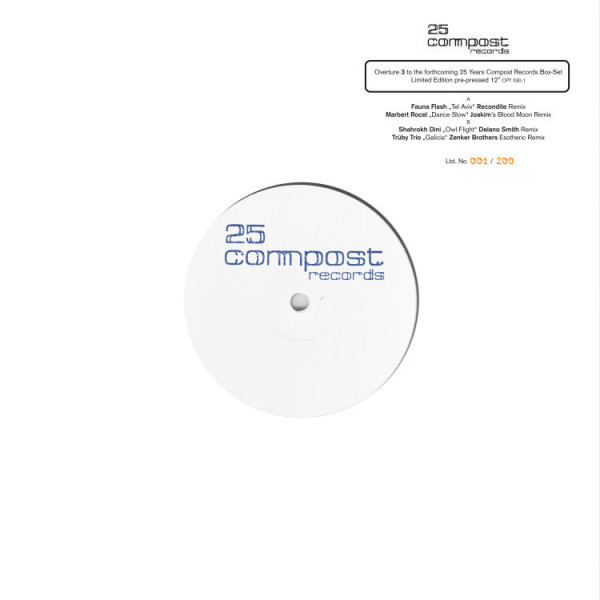 25 Compost Records - Overture 3
genre:
Electro / Electronic
To order please add to basket and proceed to check out
1.
Fauna Flash - Tel Aviv (Recondite Remix)
---
2.
Marbert Rocel - Dance Slow (Joakim's Blood Moon Remix)
---
3.
Shahrokh Dini - Owl Flight (Delano Smith Remix)
---
4.
Trüby Trio - Galicia (Zenker Brothers Esotheric Remix)
---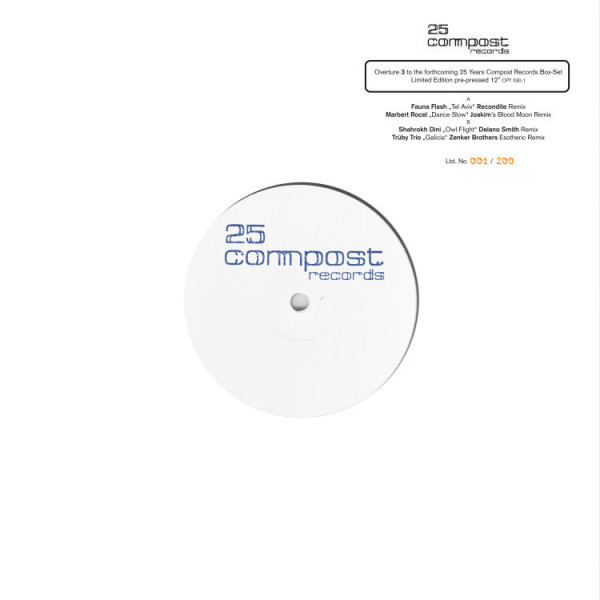 description
Jubiläum Teil 3. Zum 25-jährigem Labelbestehen von Compost kommt Ende April 2019 ein massives Paket: 10 x 12" Box-Set mit über 30 neuen Remixen und exklusiven Tracks heraus. Vorab, als strictly limited 12", quasi als zweite Overtüre kommt "Overture 3" als handgestempelte, bestickerte, handnummerierte white label Maxi. "Overture 3" vereint die Compost-Acts Fauna Flash, Marbert Rocel, Shahrokh Dini und das Trüby Trio, geremixt von Recondite, Joakim, Delano Smith und den Zenker Brothers. Das Box-Set birgt dann weitere Remixe von Michel Cleis, Gerd Janson, DJ Spiller, Kai Alce, Purple Disco Machine, Lawrence, Tee Mango, I:Cube, Mr Raoul K, Francois K, Boo Williams, Roman Flügel, u.v.a., plus ein paar auf Vinyl ausverkaufte Compost-Klassiker sowie etliche nette Gimmicks. Lasst euch überraschen!