Studio One Freedom Sounds (2LP)
description
Als Clemens Dodd eine goldene Ära prägte: Ska, Rocksteady, Soul und Reggae von Jamaikas Top-Label.

Nachdem Jamaika im August 1962 die Unabhängigkeit von der britischen Krone erlangt hatte, entwickelte
sich die Karibikinsel zu einem musikalischen Hotspot, der Ska, Rocksteady und Reggae zum Siegeszug rund
um die Welt schickte. Mittendrin: Clement Dodd und sein 1963 gegründetes Label Studio One in der
Brentford Road, Kingston. In den Sechzigern versammelte "Sir Coxsonne" mit Alton Ellis, Delroy Wilson, den
Wailers, Slim Smith und Jackie Opel nicht nur talentiertesten Stimmen Jamaikas unter seinem Dach, es
arbeiteten auch einige der begabtesten Musiker für sein Imperium, zu dem auch ein Tonstudio, Plattenladen
und Presswerk gehörten: The Skatalites, Jackie Mittoo's Soul Brothers, The Sounds Dimension, The Soul
Vendors. Wie zur selben Zeit Motown in den USA brachte das Studio One Woche für Woche mindestens
einen neuen Hit heraus und prägte so eine ganze Dekade. Bis heute ist das Studio One, das in seiner
Blütezeit rund 50 Angestellte und Hunderte Musiker beschäftigte, die erfolgreichste Plattenfirma Jamaikas.
Die Kompilation "Freedom Sounds" blickt noch einmal zurück in diese goldene Ära und präsentiert 18 Ska-,
Rocksteady-, Soul- und Reggae-Klassiker von unter anderem Don Drummond & The Skatalites ("Rain Or
Shine"), Peter Tosh ("I Am The Toughest"), Roland Alphonso ("Reggae In The Grass"), Delroy Wilson ("Get
Ready"), Alton Ellis ("Sunday Coming"), Ernest Ranglin ("Psychedelic Rock"), Jackie Mittoo ("Hi Jack") und
Bob Marley & The Wailers ("Destiny").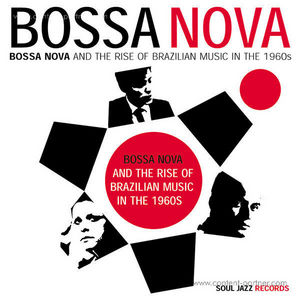 Brasil
Soul Jazz Records Presents / V.A.
Soul Jazz Records
€24.99