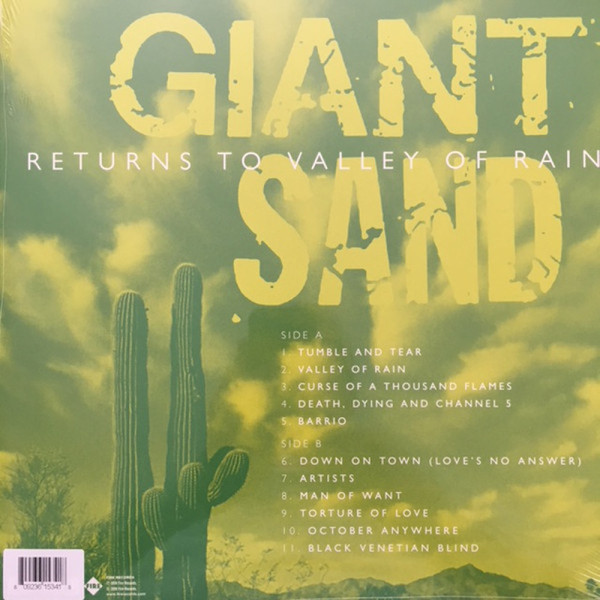 Returns To Valley Of Rain (LP)
3.
Curse Of A Thousand Flames
---
4.
Death, Dying And Channel 5
---
6.
Down On Town (Love's No Answer)
---
description
Valley of Rain ist das Debütalbum von Giant Sand, das 1983 von Howe Gelb (Gesang, Gitarre) und Winston Watson (Schlagzeug), Tommy Larkins (Schlagzeug) und Scott Garber (Bass) aufgenommen und schließlich 1985 veröffentlicht wurde.

Zum Zeitpunkt der Aufnahme war Howe Gelb mit den Möglichkeiten von Röhrenverstärkern nicht vertraut und hatte den Großteil des Albums mit einem Roland JC120 in den wunderbaren 8-Spur-Studio The Control Center in Korea Town, Los Angeles zusammen mit Ricky "Mix" Novak produziert.

Gesamtkosten der eineinhalbtägigen Aufnahme betrugen $400. Als Enigma Records anbot, das Album zu veröffentlichen, baten sie um weitere 15 Minuten Musik, um es zu einer vollständigen LP zu machen.

Ron Goudie wurde dann hinzugezogen, um die zusätzlichen Aufnahmen in einem Studio in Venedig, CA namens Mad Dog mit Eric Westfall Engineering zu überwachen.

Es war dort, als Howe sich einen Verstärker auslieh, der im Studio gelagert worden war, dass er das Polster eines Röhrenverstärkers entdeckte und seine Welt sich veränderte.

Der Verstärker war ein leicht modifizierter Fender Twin Reverb von Robbie Krieger von The Doors.

30 Jahre später, nachdem die Band auf unbestimmte Zeit eingeschläfert worden war, begannen sich die ersten Songs in die letzten Giant Sand Tourneen einzuschleichen.

Irgendwie schien es angebracht, ihnen einen weiteren Versuch mit dem richtigen Verstärker zu geben, nur um zu sehen, was sie hätten sein können.

Was die Idee zugänglicher machte, war die Verfügbarkeit der beiden ursprünglichen Schlagzeuger, die in Tucson lebten.

Der erste Versuch kam letzten Sommer mit Winston & Tommy und Thoger Lund am Bass, sowie den beiden neuesten Mitgliedern, dem 29-jährigen Gabriel Sullivan und der 23-jährigen Annie Dolan an Doppelhalsgitarren.

Das Geräusch war wahnsinnig. Der lustige Teil war Gabriel, der die Session entwickelt und gemischt hat und ihr einen absichtlichen 80er Jahre Produktionssound gab.