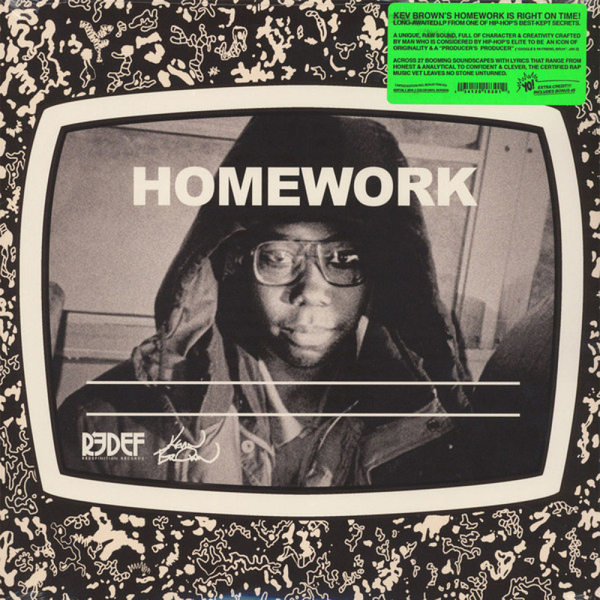 Homework (Ltd. Coloured LP+7")
To order please add to basket and proceed to check out
6.
Tell Me About The Stuff
---
7.
Blueprint From The Masters
---
11.
Look At The Way The World Move
---
19.
Gittin' Down 2 Bizness
---
20.
Everything You Need To Win
---
23.
Passion / Energy / Heart
---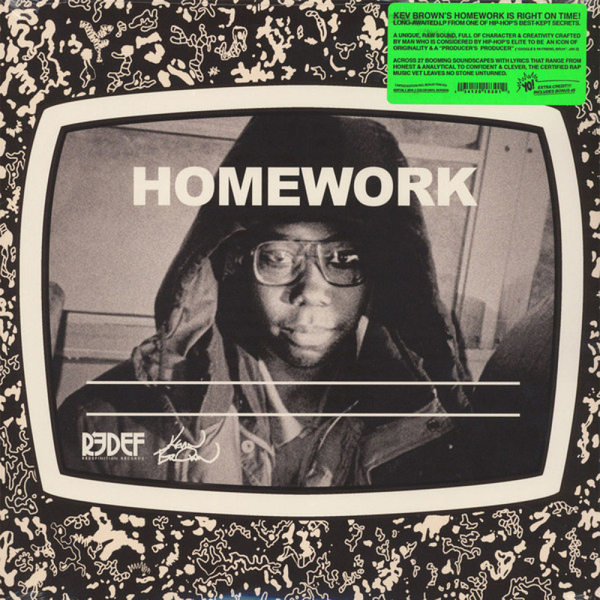 description
The DMV's own, Kev Brown has announced his frst solo rap album since
2005. Hailing from Palmer Park in Landover, Maryland specifcally, after
a 13 year hiatus, the producer/MC has fnally prepared the sophomore
sequel to 2005's in?uential cult classic, I Do What I Do. Entitled,
Homework, Brown and Redefnition Recs have partnered to release an
LP the game has been missing for too long.
Now 13 years is a long wait, but don't think Kev has been idle in obscurity.
He has been involved with several collaborative projects, garnered tons
of production credits and released over a half dozen beat tapes during
that time frame. It is also important to note that he was in no rush to drop
another rap album and preferred to compose Homework organically and
at his own pace, in the comforts of his own home, hence the title. Though
Brown is known as one of hip-hop's elite producers from heavyweights
like Diamond D, Pete Rock, Busta Rhymes, Peter Rosenberg, 9th Wonder
and Jazzy Jeff, he is a man of many hats.
Kev Brown's debut album was groundbreaking in so many areas that
the recording itself and Kev is cemented as legendary. It would be no
surprise that hip-hop would ask for the next installment and he's nowhere
near done leaving his mark. Homework is a seamless nonstop exhibition
of KB's range. Kev raps confdently and wisely throughout the album's
27 tracks. Lyrically it's personal, introspective, comedic, observatory
and witty delivered in Kev's smooth baritone style. Vocals are equally
complimented by instrumentals all produced by the man himself and
?uidly morph into instrumental compositions too good to be considered
interludes. The album was composed using several different samplers
and recording technologies, but the vibe is never compromised.
Homework is the perfect game plan for today's climate and for those
who haven't, do your homework on this man. You won't be disappointed.