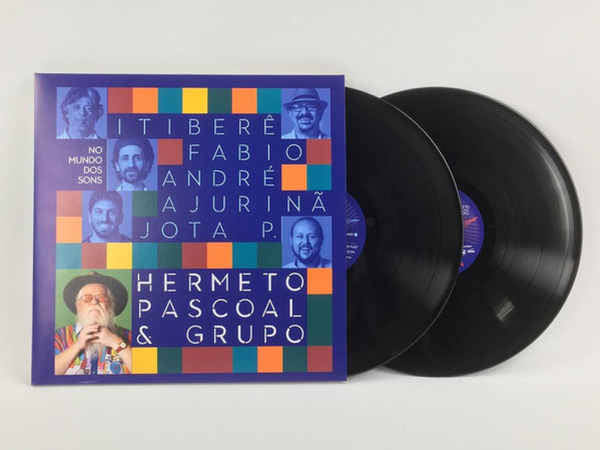 No Mundo Dos Sons (Gatefold / 2LP)
To order please add to basket and proceed to check out
2.
Vinícius Dorin Em Búzios
---
5.
Mazinho Tocando No Coreto
---
7.
Forró Da Gota Para Sivuca
---
8.
Carlos Malta Tupizando
---
13.
Salve, Pernambuco Percussão!
---
16.
De Fabio Para Jovino Dos Santos
---
17.
Um Abraço Chick Corea
---
description
Japanese Record Label 180g releases Brazilian legend Hermeto Pascoal's 2017 album 'No Mundo Dos Sons', his first recording with his band in 15 years, now available for the first time in gatefold double vinyl edition!

Wide ranging and eclectic, Pascoal is known as "The Wizard" because he can extract a sound from anything. While one cannot always be sure exactly what instrument in his arsenal he is deploying at any particular point in time, the results are marvelous, defying easy (or any) categorization. The 18 tracks, each of which have their own distinct personality and character, include elements of traditional jazz, Brazilian jazz, traditional Brazilian music, pop, African, symphonic element, as well as music from Pascoal's cerebrum. All are imbued with Pascoal's tools of the trade - whistles, screams, scales, keyboard, kettles, spoons, squeeze toys, children's voices, prepared piano and geese calls.

Band members - whose ranks include such standouts as João Paulo Ramos Barbosa ("Jota P") and Itiberê Zwarg - add Brazil's pandeiro, surdo, caixa, apitos, bonecos and agogos, as well as more conventional Western instruments such as soprano and tenor saxophones, flute, electric piano, electric bass and other instruments. Musicians and genres such as Terry Riley, Frank Zappa, Weather Report, Javanese gamelan and Indonesian kulintang, Philip Glass and others come to mind, but there is no real overlap: Pascoal has his own special brew.

No Mundo Dos Sons (released in 2017 on 2xCD format in Brazil, on Selo Sesc) is Pascoal's first recording with his band in 15 years. He recently told Brazil's Anoticia that "My music is not commercial, it's not like selling bananas or soap. I'm not in a hurry to record. My whole life is to do shows... I have a frightening amount of music, almost 9,000 compositions on paper. But do not confuse quantity with quality, see? I always worry about quality."

Harry S. Pariser - All About Jazz, October 12, 2017.