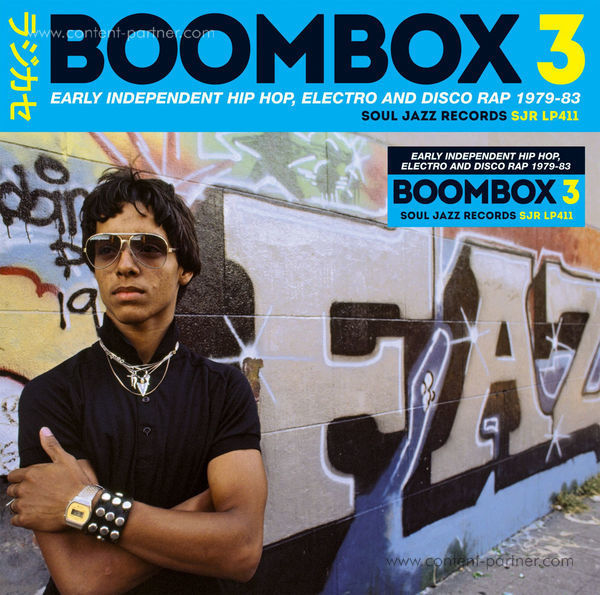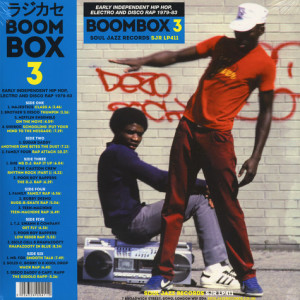 Boombox 3: Early Indie Hiphop, Electro, Disco Rap
2.
Brother's Disco - Thumpin
---
3.
Mifflin Ensemble - On The Move
---
4.
Sherod - Schooling (Put Your Mind To The Message)
---
5.
Sugar Daddy - Another One Bites The Dust
---
6.
Family Four - Rap Attack
---
7.
She - Ms DJ Rap It Up!
---
8.
The Caution Crew - Rhythm Rock (Part 1)
---
9.
Poor Boy Rappers - The DJ Rap
---
11.
Bobby Deemo - Bugs-B-skate Rap
---
12.
Teen-Machine - Teen-machine Rap
---
13.
Tj Swann & Company - Get Fly
---
14.
Poor Boy Rappers - Low Rider Rap
---
15.
Sicle Cell & Rhapazooty - Rhapazooty In Blue
---
17.
Solid C, Bobby D & Kool Drop - Wack Rap
---
18.
Disco Daddy & Capt Rapp - The Gigolo Rapp
---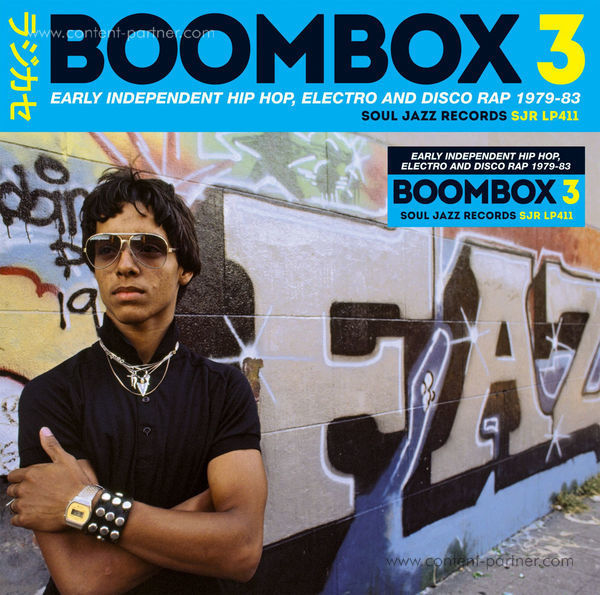 description
Original Old-School aus dem New Yorker Underground: Die Phase nach "Rapper's Delight".

In der Bronx begann der Siegeszug von Sprechgesang: Hier war Hip-Hop ab Mitte der Siebziger das neue
große Ding. Es brachte mit Kool Herc, Grandmaster Flash und Afrika Bambaataa DJs hervor, die auch heute
noch jedem Interessierten geläufig sind. Doch die ersten Platten mit "rhymes, cuts and beats" wurden in
Harlem produziert, zunächst von kleinen Hinterhofklitschen. Den Startschuss dafür gab die Sugarhill Gang,
die 1979 mit "Rapper's Delight" einen gigantischen Hit landete. Was in der Folge das Licht der Welt erblickte,
war geprägt von B-Boy-Attitüde, Block-Partys, Disco-Jams und der jamaikanischen Soundsystem-Kultur.
Heute summiert man das Geschehen unter Old-School, doch dabei fällt unter den Tisch, dass dieses Rap-
Ding noch ein äußert disparates Genre war, in dem auf der Basis von Breaks und Sprechgesang Stile wie
Disco, Funk, Electro und R&B kreativ miteinander vermengt wurden. Soul Jazz taucht mit der dritten
"Boombox"-Ausgabe erneut in diese wilde Aufbruchszeit ein und präsentiert uns 18 New Yorker Acts, die
über ihren Status der lokalen Berühmtheit nie hinauskamen, aber als Geburtshelfer von Hip-Hop ihren Platz
in den Geschichtsbüchern sicher haben. Wie bereits die beiden ersten Teile erscheint auch diese
Zusammenstellung als 2CD sowie 3LP mit Download-Code.