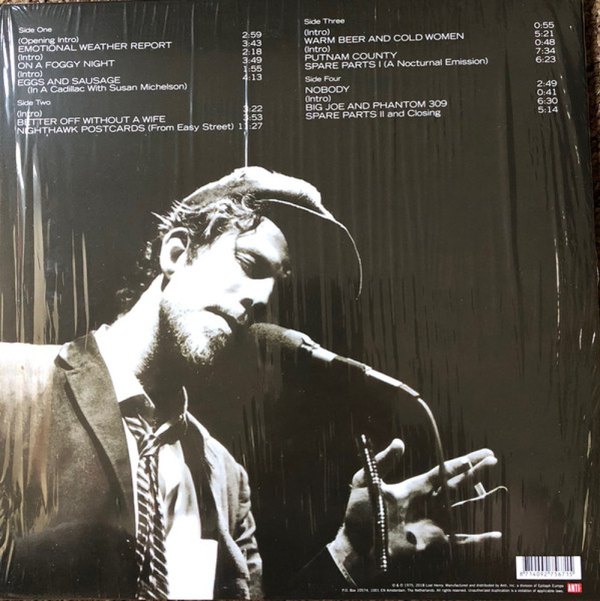 2.
Emotional Weather Report
---
6.
Eggs And Sausage (In A Cadillac With Susan Michelson)
---
8.
Better Off Without A Wife
---
9.
Nighthawk Postcards (From Easy Street)
---
11.
Warm Beer And Cold Women
---
14.
Spare Parts I (A Nocturnal Emission)
---
17.
Big Joe And Phantom 309
---
18.
Spare Parts II And Closing
---
description
Remasterte Wiederveröffentlichung von 1974. Eines der "500 besten Alben aller Zeiten"!
Mit seinem zweiten, 1974 veröffentlichten Album "Heart Of Saturday Night" erarbeitete sich Tom Waits den Ruf eines versierten und vielseitigen Songwriters. Seine bluesigen und gerne ins jazzige driftenden Arrangements basierten meist auf dem Einsatz von Bass, Schlagzeug, Saxofon und natürlich Klavier. Maßgeblich an den Aufnahmen beteiligt war der Produzent Bones Howe, den David Geffen, Chef von Asylum Records, vermittelt hatte. Howe hatte in seiner Karriere schon für so unterschiedliche Künstler wie Elvis Presley, Ornette Coleman und Frank Sinatra gearbeitet. Wie Howe kamen auch die Studiomusiker aus den weiten Gefilden zwischen Pop und Jazz, was die Produktion eindeutig in die von Waits gewünschte Richtung führte. Die entsprach allerdings noch weniger als das Debütwerk "Closing Time" (1973) dem damaligen Mainstream. Allerdings führt der "Rolling Stone" die Platte heute in der Liste der "500 besten Alben aller Zeiten" auf Platz 339. Nach der Veröffentlichung von "Heart Of Saturday Night" ging Waits - auf Betreiben seines Managers Herb Cohen - mit Frank Zappa auf Tour. Widerwillig. Die Reaktionen des Publikums waren mäßig, doch Waits hatte Zappa auf seiner Seite, was ihm unter Kollegen ziemliches Renommee verschaffte.