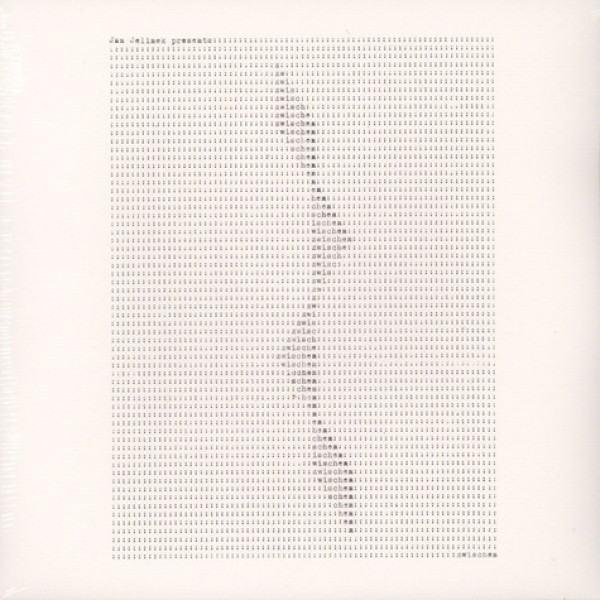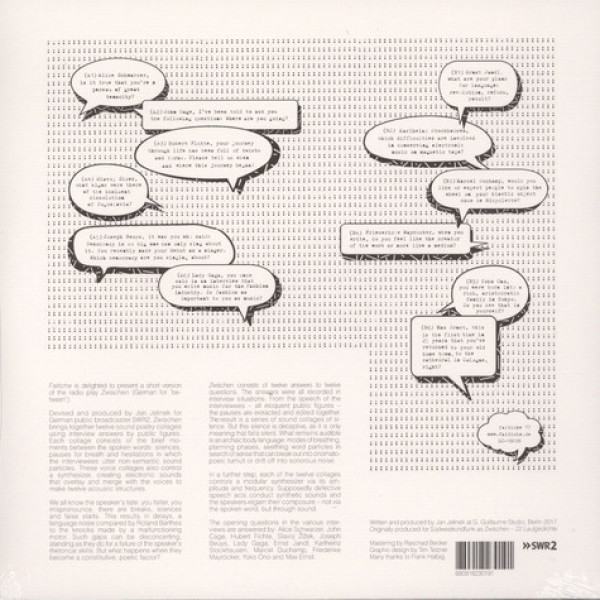 Zwischen (LP)
genre:
Electro / Electronic
To order please add to basket and proceed to check out
1.
Alice Schwarzer, Is It True That You're A Person Of Great Tenacity?
---
2.
John Cage, I've Been Told To Ask You The Following Question: Where Are You Going?
---
3.
Hubert Fichte, Your Journey Through Life Has Been Full Of Twists & Turns. Please Tell
---
4.
Slavoj Zizek, What Signs Were There Of The Imminent Dissolution Of Yugoslavia?
---
5.
Joseph Beuys, It Was You Who Said: Democracy Is So Big One Can Only Sing About It:
---
6.
Lady Gaga, You Once Said In An Interview That You Write Music For The Fashion
---
7.
Ernst Jandl, What Are Your Plans For Language: Revolution, Reform, Revolt?
---
8.
Karlheinz Stockhausen, Which Difficulties Are Involved In Conserving Electronic Music
---
9.
Marcel Duchamp, Would You Like Or Expect People To Spin The Wheel On Your Kinetic
---
10.
Friederike Mayrocker, When You Write, Do You Feel Like The Creator Of The Work Or
---
11.
Yoko Ono, You Were Born Into A Rich, Aristocratic Family In Tokyo. Do You See That
---
12.
Max Ernst, This Is The First Time In Twenty-Five Years That You've Returned To Your
---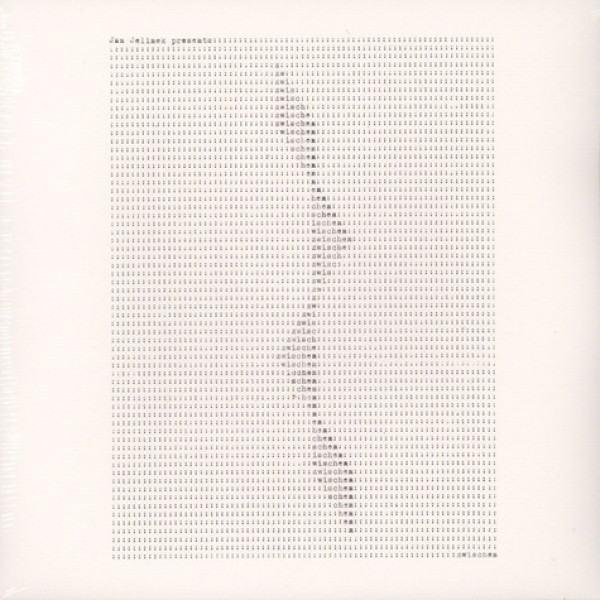 description
Leerstellen, die zu konstitutiv-poetischen Momenten montiert wurden. Eine lautpoetische Collage von 2017.
Was viele nicht wissen: Jan Jelinek ist nicht nur ein Wandler zwischen "hörbarer" und "tanzbarer" Elektronik, Jazz und Dancefloor, Improvisation und Experiment, sondern im Auftrag des SWR auch ein eifriger Verfasser von Radiohörstücken. Für die Audiocollage "Kennen Sie Otahiti?" erhielt er den Karl-Sczuka-Förderpreis 2012. Zuletzt entstand das Hörstück "Beweisstücke für das Bombardement" (2015). Die lautpoetische Collage "Zwischen" von 2017 versammelt 22 Antworten auf 22 Fragen. Allen Antworten ist gemeinsam, dass sie in öffentlichen Interviewsituationen aufgezeichnet wurden. Aus der Artikulation der Befragten - eloquente, in der Öffentlichkeit stehende Persönlichkeiten wie Alice Schwarzer, John Cage, Lady Gaga, Joseph Beuys, Yoko Ono, Slavoj Zizek - extrahierte Jelinek Verzögerungen und montierte diese aneinander. So entstanden Klangcollagen der Stille. Doch diese Stille ist trügerisch, denn in ihr schweigt lediglich Bedeutung. Hörbar bleibt eine archaische Körpersprache: Modi des Atmens, Planungsphasen, gärende, nach Sinn ringende Wortpartikel, die sowohl in lautmalerischen Tumult ausbrechen, als auch in sonores Rauschen abdriften können. Die LP-Veröffentlichung von "Zwischen" erscheint auf Jelineks 2008 gegründeten Label Faitiche und ist auf 500 Exemplare limitiert.