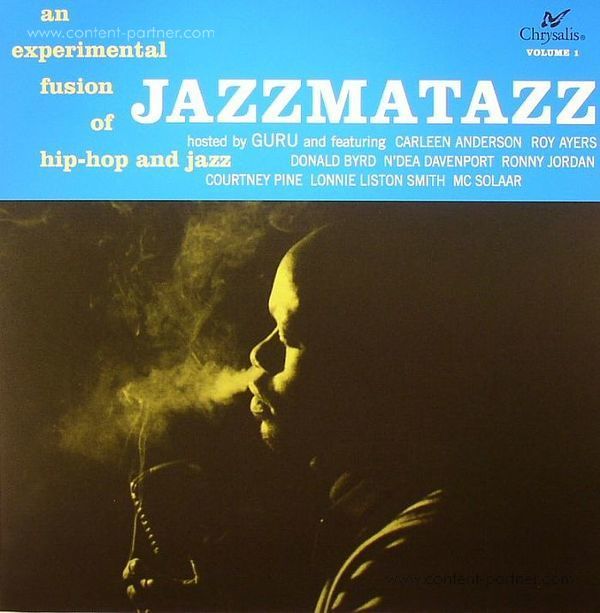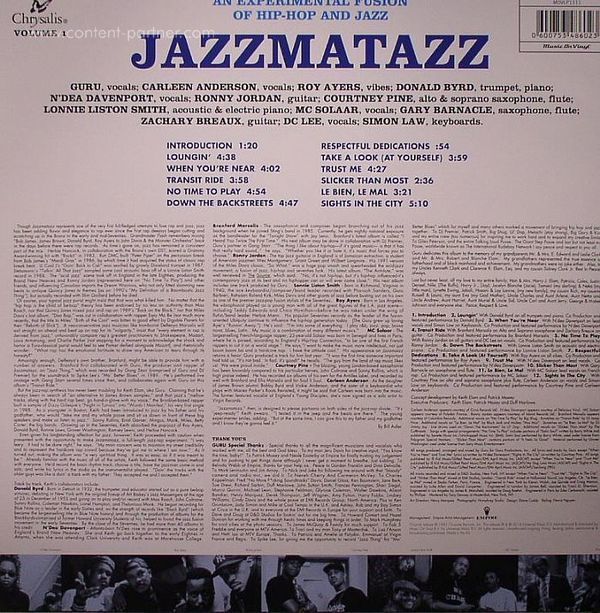 To order please add to basket and proceed to check out
2.
"Loungin'" (feat Donald Byrd)
---
3.
"When You're Near" (feat N'Dea Davenport)
---
4.
"Transit Ride" (feat Branford Marsalis)
---
5.
"No Time To Play" (feat Ronny Jordan & DC Lee)
---
6.
"Down The Backstreets" (feat Lonnie Liston Smith)
---
7.
"Respectful Dedications"
---
8.
"Take A Look (At Yourself)" (feat Roy Ayers)
---
9.
"Trust Me" (feat N'Dea Davenport)
---
10.
"Slicker Than Most" (feat Gary Barnacle)
---
11.
"Le Bien, Le Mal" (feat MC Solaar)
---
12.
"Sights In The City" (feat Carleen Anderson & Courtney Pine)
---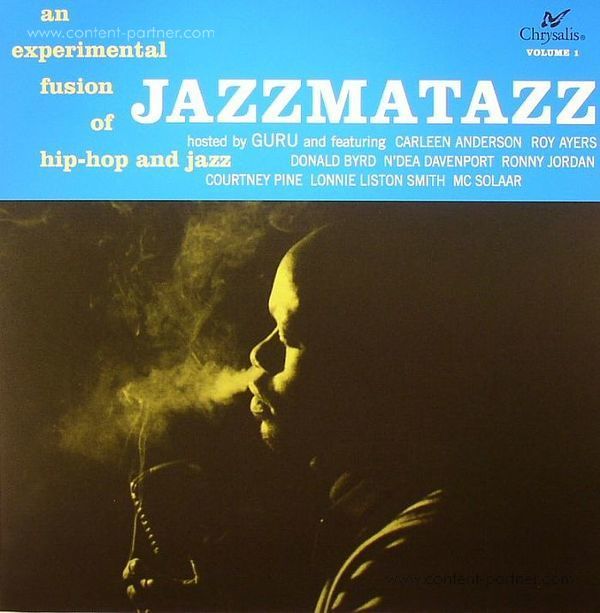 description
¦ Audiophiles 180g Vinyl
• Enthält die Singles "Trust Me", "No Time To Play", "Loungin", "Sights In The City"
• Black Vinyl Edition
• Deluxe Cover auf schwerem Karton mit Leinen-Laminat-Oberfläche
• Bahnbrechendes Hip-Hop und Jazz-Album vom Gründungsmitglied der Gang Starr
• Wurde in die Liste der besten Hip-Hop Alben aller Zeiten von Hip-Hop Golden Age aufgenommen

¦ Guru's "Jazzmatazz 1", ursprünglich 1993 veröffentlicht, ist eines der ersten Alben, das eine Live-Jazzband mit Hip-Hop-Produktion und Rap kombiniert. Guru hatte eine Vision und brachte eine vielfältige Gruppe von Jazzern alter und neuer Schule zusammen; Lonnie Liston Smith, Branford Marsalis, Ronny Jordan, Donald Byrd und Roy Ayers sowie Sängerinnen und Sänger wie Carleen Anderson, N'Dea Davenport (Brand New Heavies) und der französische Rapper MC Solaar haben an diesem klassischen Album zusammengearbeitet. "Jazzmatazz" erwies sich als ein höchst einflussreiches Album und wurde ein großer kommerzieller Erfolg.