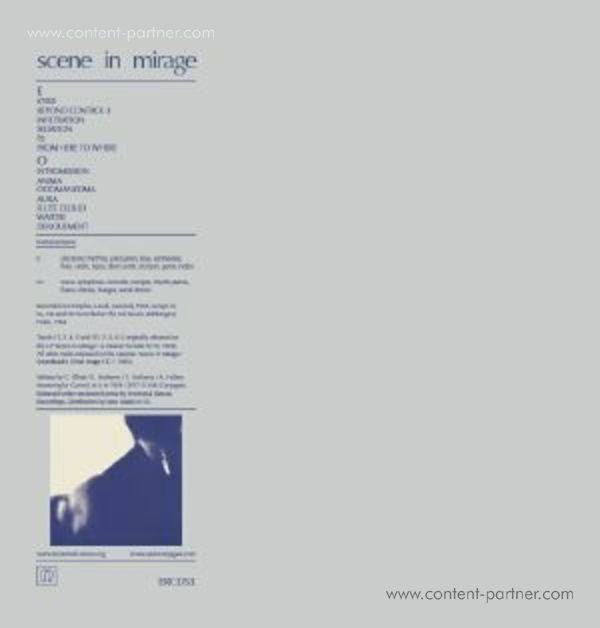 To order please add to basket and proceed to check out
description
Emotional Rescue returns to the music of "dark ambient" pioneers O Yuki Conjugate (OYC) with the reissue of their debut album, 'Scene in Mirage'. Released in 1984, it's post-industrial; cold wave overtures mixed with an ambient oeuvre created a compelling album that has gained cult status.

Recorded in a four-track basement studio in Leeds it showcases two very different sides to their sound. Side E follows the earlier recordings of their debut cassette release "Untitled" (ERC051), with use of analogue drum machines, synthesizers, bass an the ingenious use of tape loops made from audio cassettes stolen from local public libraries.

Side O however, points to the future development of the band with experimental sound collages. Built from percussion, voice, flute and drones created using a home made digital delay with a 1.6 second sampling feature for instant soundscapes. At the touch of a button this was DIY at its core when at the time most samplers cost more than a four-bedroom house in Knightsbridge.
Quickly selling out in its original pressing, inexplicably their record label decided not to re-press, so an expanded cassette version called 'Scene In Mirage/Soundtracks' was re-released on the band's own Final Image label with an accompanying video. Here, Emotional Rescue's re-issue combines the best of both versions in a lovingly recreated sleeve taken from the original design templates.Based around original members Roger Horberry and Andrew Hulme, OYC is now returning in its fourth incarnation with live shows and hopefully, new music to come. Watch the horizon.
House
O Yuki Conjugate
Utter
€13.29
Deep House
O Yuki Conjugate
Emotional Rescue
€11.99