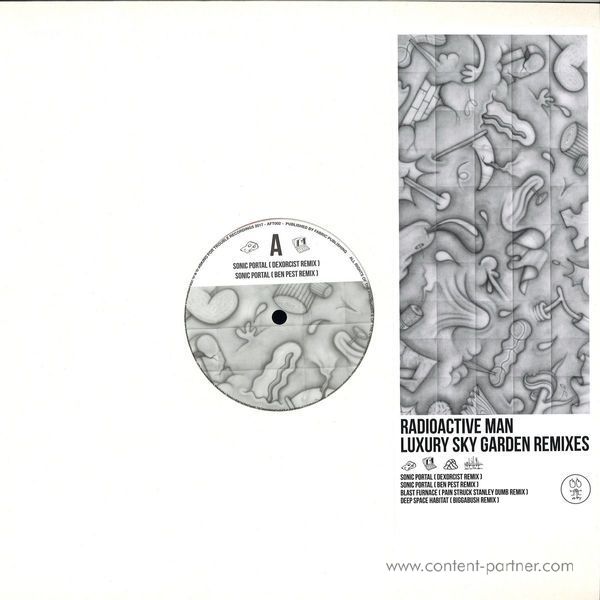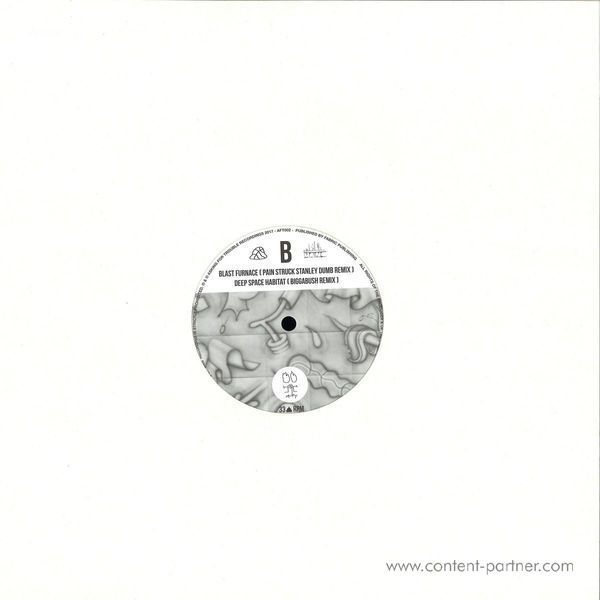 1.
Sonic Portal (Dexorcist Remix)
---
2.
Sonic Portal (Ben Pest Remix)
---
3.
Blast Furnace (Pain Strcuk Stanley Dumb Remix)
---
4.
Deep Space Habitat (Biggabush Remix)
---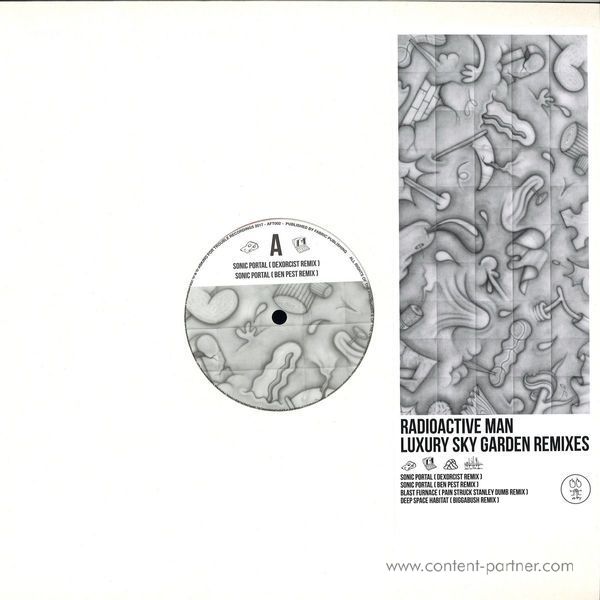 description
Next up on Asking for Trouble after selling out the album and re-pressing comes a four track remix EP for Radioactive Man's Luxury Sky Garden album.

Life-time friend of Radioactive Man and Control Tower partner Dexorcist aka Simon Brown is first up to deliver his take on 'Sonic Portal' on the A side. His style has always been uncompromising and as a music lover and DJ he's been a major influence on Tenniswood's style and taste for a long time. Dexorcist turns in a Detroit influenced banger which goes deep.

Ben Pest then follows with his own take of the same track. A member of funk band Pest, purveyor of Wonky Techno, music tech teacher and hardware enthusiast Ben has also released on Jerome Hill's Don't' Label, I Love Acid and Horror Boogie to name a few. His take on 'Sonic Portal' is as genre bending and weighted as you'd expect.

Over on the B side Pain Struck Stanley Dumb remix 'Blast Furnace' - a fast and furious electro track which was released as a digital bonus to the album. They work it into a breakneck speed techno number. Taste the amphetamine!

Completing the package Biggabush (aka Glyn Bush) brings his dub influence to the mix. Bush of Rockers Hi-Fi connected with Radioactive Man during a mastering session asking to do the mix after hearing the record. The results are impressive and provide a welcome tempo and vibe change to the EP with its deep and dubby elements.