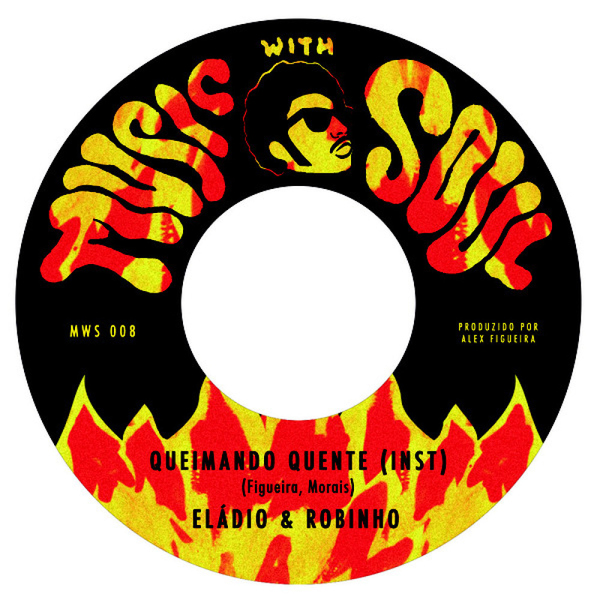 2.
Queimando Quente (Instrumental)
---
description
Music With Soul is back with another boundary-pushing smasher. The unexpected debut from Eládio & Robinho, a mysterious afro-fuzzed-hair duo from the Fourth World that has emerged to explore and expand the inexplicably hesitant relation between the classic rhythms of Jamaica and the southern hemisphere of the American continent.
"Queimando Quente" showcases a swinging Brazilian-infused heavy-hitting Reggae, masterfully painted by the hypnotic sound of a tenor-sax melody and a laid-back Cuíca, all recorded in our very own Barracão Sound Studio, under the baton of the unmistakable Alex Figueira of Fumaça Preta and Conjunto Papa Upa.

Giving body and soul to the beat appears Felipe Machado, soulful Brazilian composer and singer that once gave voice to the best revivalist-reggae band that Brazil has ever witness, Firebug – then produced by superstar sound engineer, producer and multi-instrumentalist Victor Rice. Machado sings about a lost love, life, dreams and fears in his own native Portuguese, with a wonderful distinctive tone that doesn't seek to emulate the ways of his Jamaican counterparts.

Side B features an instrumental version where João Morais' unique Saxophone tone reigns supreme, giving guaranteed goose bumps at any given point of his remarkable one take only rendition. Lacquers cut by Timmion, for maximum sound quality. Limited to 300 copies.m, in 2015.