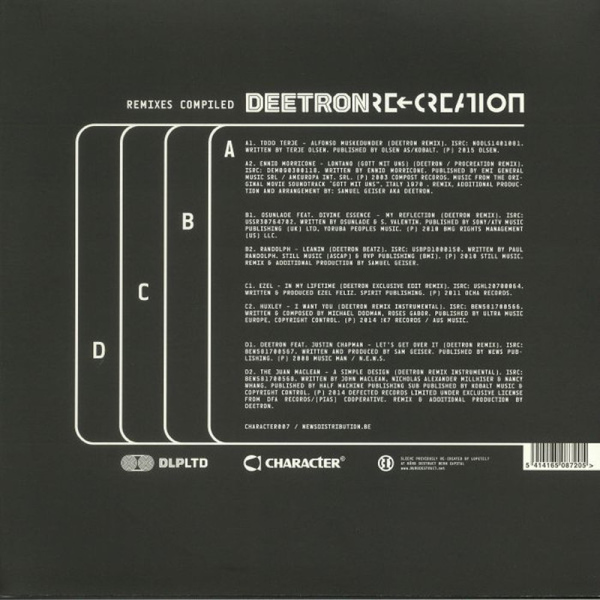 1.
Alfonso Muskedunder (Deetron Remix)
---
2.
Lontano (Gott Mit Uns) (Deetron / Procreation Remix)
---
3.
My Reflection (Deetron Remix)
---
4.
Leanin (Deetron Vocal Mix)
---
5.
In My Lifetime (Deetron Remix)
---
6.
I Want You (Deetron Remix Instrumental)
---
7.
Let's Get Over It (Deetron Unreleased Remix)
---
8.
A Simple Design (Deetron Remix Instrumental)
---
description
Seeking for a different twist to original tracks, there are not many producers who have not tapped on Deetron's talents as a masterful remixer. Putting his deft touch on tracks from artists as varied as Ennio Morricone and Todd Terje to Jamiroquai, Deetron's remixes have become standalone hits in their own right.
With more than 200 remixes to his name since his first remix was released in 2000, Deetron takes stock and cherry-picks from his vast discography to present Re-creation (Remixes Compiled) for Character 007. A collector's collection from past to present, the compilation stretches across his body of work from 2003 to 2017 and features some of Deetron's very best.

As a special bonus, the compilation also includes more than a handful of exclusive new versions, edits and instrumentals that Deetron has been using as secret weapons in his DJ sets. These are now released for the first time for all to enjoy.

Re-creation (Remixes Compiled) will be released on both digital and vinyl. The double-pack vinyl release features Deetron's personal landmark releases on sides A/B, while the C/D sides feature exclusive or previously unreleased edits/versions.