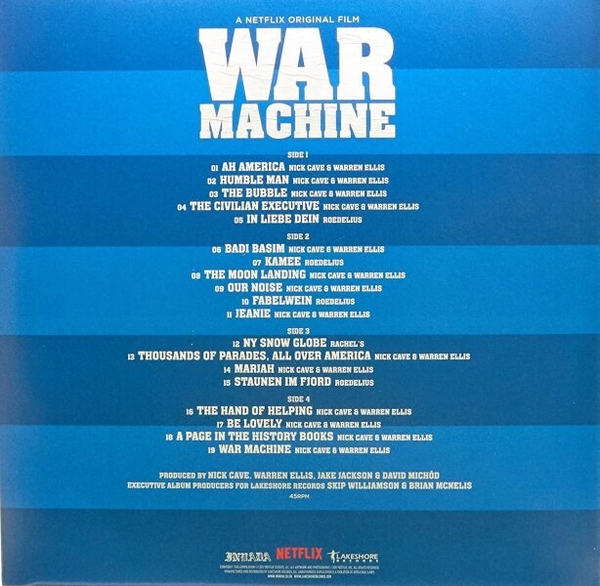 War Machine (A Netflix Original Film Soundtrack)
To order please add to basket and proceed to check out
4.
The Civilian Executive
---
13.
Thousands Of Parades, All Over America
---
18.
A Page In The History Books
---
description
Jetzt auch als Doppel-LP erhältlich! "War Machine" ist ein Netflix Film, der hochkarätig besetzt ist: Brad Pitt, Tilda Swinton und Ben Kingsley gehören zum Ensemble. Basierend auf der Geschichte eines Rolling Stone-Reporters, spielt Pitt den General Glen McMahon, der in Afghanistan einen endgültigen Frieden mit militärischen Mitteln durchsetzen will. Mit einem 60-Millionen-Budget ausgestattet, wird ein Stück neuere amerikanische Geschichte erzählt. Auch am Soundtrack wurde nicht gespart. Nick Cave & Warren Ellis (zusätzliche Stücke stammen vom deutschen Musiker Roedelius) bezeichnen den Score schon jetzt als ihren liebsten. Laut Aussage der beiden Künstler schaffen sie eine Atmosphäre mit 'spiritual electronics', die zwischen Melancholie und der schrecklich absurden Realität des afghanischen Krieges pendelt.