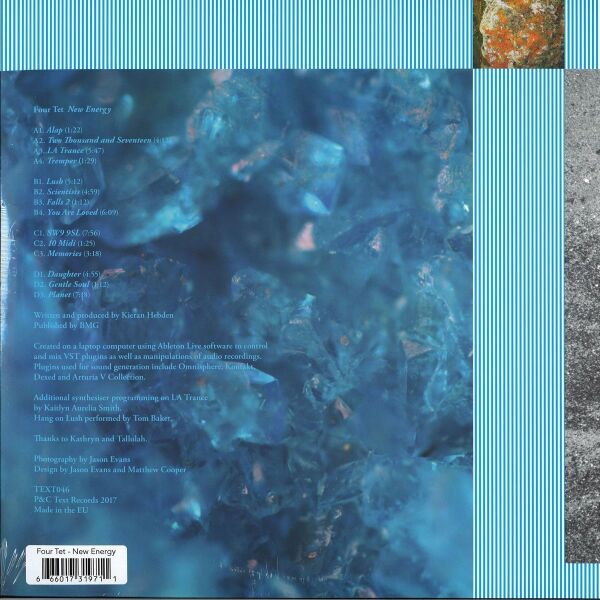 2.
Two Thousand And Seventeen
---
description
Wieder auf bewährte Tugenden besonnen: Neuntes Album des Londoner Produzenten.
Four Tet ist das Pseudonym, das Kieran Hebden für seine Elektronikproduktionen in der Schnittstelle von Techno, Experiment und Micro-Sampling verwendet. "New Energy" ist seit "Dialogue" von 1999 bereits sein neuntes Four-Tet-Album. Zuletzt erschien 2015 das Werk "Morning/Evening", das allerdings auf geteilte Kritik stieß: Es enthielt bei einer Laufzeit von rund 20 Minuten gerade mal zwei Songs, die zwar virtuos arrangiert waren, aber eben auch nicht sonderlich zugänglich. Das Ganze erinnerte eher an Sounds, die Hebden Mitte der Nullerjahre mit dem Jazz-Schlagzeuger Steve Reid eingespielt hatte. Daher ist es umso erfreulicher, dass der Londoner Produzent mit den 14 Tracks von "New Energy" offenbar wieder auf seine bewährte, aus der Vergangenheit bekannte und geschätzte Methodik zurückgriff, und aus seinem Sammelsurium an Samples harmonische, geradlinig nach vorne treibende Tracks bastelte. Übrigens: Wer davon nicht genug bekommen kann, dem seien die zahlreichen Remixe ans Herz gelegt, die Four Tet in den letzten beiden Jahren unter anderem für The XX, A$AP Rocky und Oneohtrix Point Never produzierte.