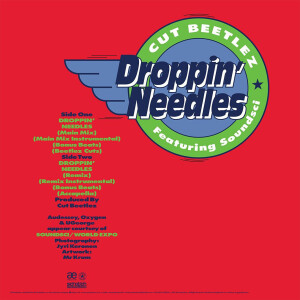 description
AE Productions are please to present our latest release and latest signing Cut Beetlez, a DJ/producer duo hailing from Tampere, Finland. For their first release on AE, Droppin' Needles, they have teamed up with Soundsci MC's Oxygen, Audessey and U-George delivering an ode to the almost forgotten art of the needle drop - a turntable technique pioneered by the legendary Grand Wizard Theodore. Oxygen himself is a pioneer of the art of MCing while at the same time needle dropping - an incredibly rare and extremely difficult ability and something to behold!

The beats have been created using live turntables over a raw MPC based drum track with formidable results while the MC's drop science on the art of needle dropping. The sleeve artwork recreates Marley Marl's brilliant Droppin' Science sleeve - an idea from Cut Beetlez themselves and executed by the inimitable Mr Krum - in AE's opinion the world's foremost expert on record sleeve recreation.

The 12' includes both the main version and also a remix version created with the same methods as the main version plus instrumentals, accapella, bonus beat and DJ tool - plenty of tracks for DJ's while a limited edition cassette single release includes main and remix vocal and instrumental versions.