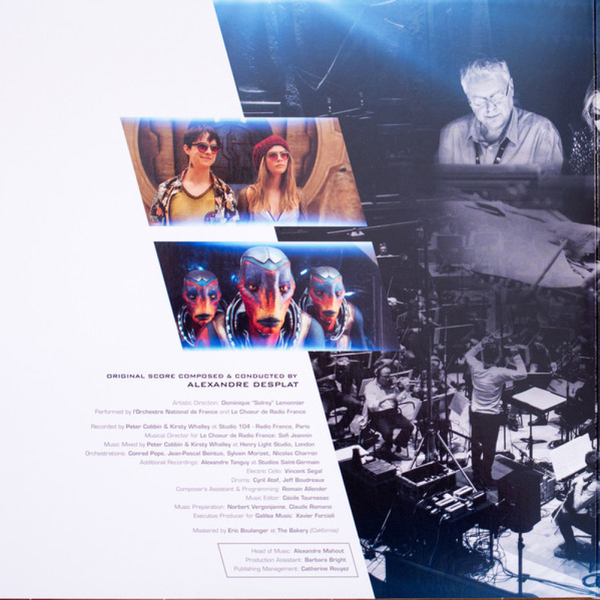 Valerian And The City Of... (2LP Blue/White Vinyl)
1.
Space Oddity (2015 Remastered Version)
---
4.
Flight Above The Big Market
---
description
DOPPEL LP, 180G, BLAUES / WEISSES VINYL / GATEFOLD SLEEVE

Am 20. Juli kommt Luc Bessons bis dato größter Film
in die Kinos. Inspiriert wurde der Film vom
französischen Kult Comic "Valerian And The City Of
Thousand Planets" aus den 70ern. Mit einen Budget
von über 180 Millionen Euro ist es eine der teuersten
europäischen Produktionen aller Zeiten - in den USA
geht der Film mit einem Budget von über 90 Millionen
US Dollar an den Start und befindet sich damit in einer
Liga mit Star Wars, Disney und Marvel. In den
Hauptrollen spielen Cara Delevingne und Dana
Dehaan, die Nebenrollen wurden mit namenhaften
Schauspielern und Künstlern wie u.a. Rihanna, Clive
Owen, Herbie Hancock, Kris Wu und Alain Chabat
besetzt.
In Deutschland wird der Film in über 550 Kinos und in
3D ausgestrahlt.
Der Soundtrack setzt sich aus dem Score, brandneuen
Popsongs und bereits bekannten Stücken zusammen.
Komponiert wurde die Filmmusik vom berühmten
französischen Komponisten Alexandre Desplats
(Harry Potter, Twilight, Der seltsame Fall des
Benjamin Button, Grand Budapest Hotel und vielen
mehr). Die Aufnahmen fanden im Radio Frankreich
Studio 104 statt - mit der Unterstützung des National
France Orchestras (97 Musiker) und dem Chœur de
Radio France (40 Choristen).