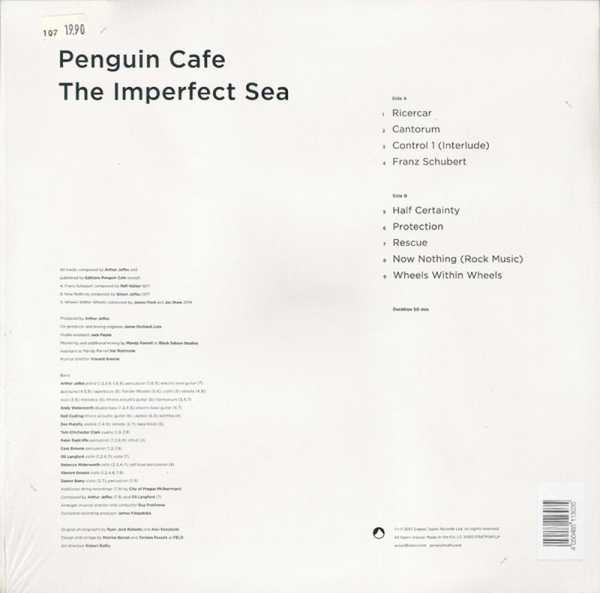 The Imperfect Sea (LP+MP3)
genre:
Electro / Electronic
To order please add to basket and proceed to check out
8.
Now Nothing (Rock Music)
---
description
Elektronik auf die analoge Art: Arthur Jeffes stößt in bisher unbekanntes Terrain vor.
Mit "The Imperfect Sea" werden die legendären Penguin Cafe Teil der Erased-Tapes-Familie. Das Album erinnert an vertraute Klänge, und greift zugleich neue Elemente auf. Penguin Cafe haben sich unter der Leitung von Arthur Jeffes zu einer eigenen Instanz entwickelt, nachdem dieser die Band 2009 als Fortführung und Hommage an das Erbe seines Vaters, Simon Jeffes' Penguin Cafe Orchestra, ins Leben gerufen hatte. Zum Großteil selbst komponiert, enthält "The Imperfect Sea" neben Cover- Versionen elektronischer Werke von Simian Mobile Disco und Kraftwerk auch eine Neubearbeitung von Simons "Now Nothing". Jeffes hat sich von der traditionellen Jazz- und Folk-Herkunft, für die Penguin Cafe Orchestra bekannt waren, in neue Bereiche beseelter, ausschließlich durch akustische Elemente erzeugte Ambient- und Tanzmusik weiterbewegt. "Die Idee war eine musikalische Welt zu erschaffen, die sich für Hörer von Dance-Musik bekannt anfühlt, aber immer noch unsere Werte verkörpert", kommentiert Jeffes. Dafür wurden die elektronischen Ebenen durch echte Instrumente ersetzt: "Pads mit echten Streichern, Synthies mit extrem veränderten Klavieren und atmosphärische, analoge Drones mit echten Feedback-Loops, die durch einen Stein und den Resonanzboden eines Klaviers klingen."
Jazz
Penguin Cafe
Erased Tapes
€18.99
Unknown
Penguin Cafe
Penguin Cafe
€14.29