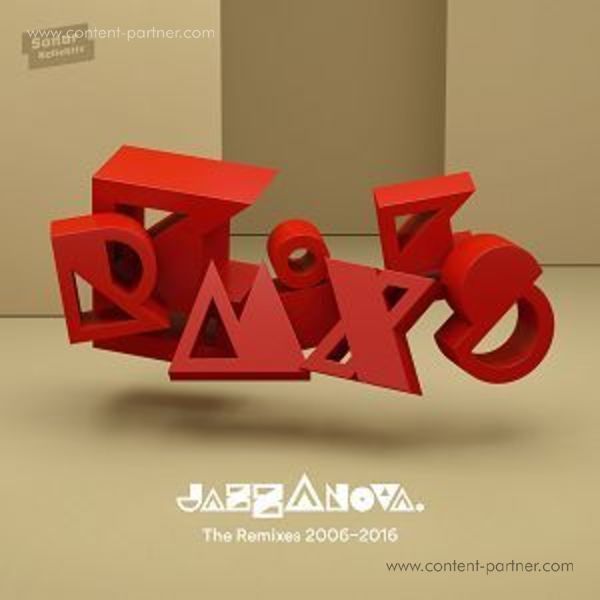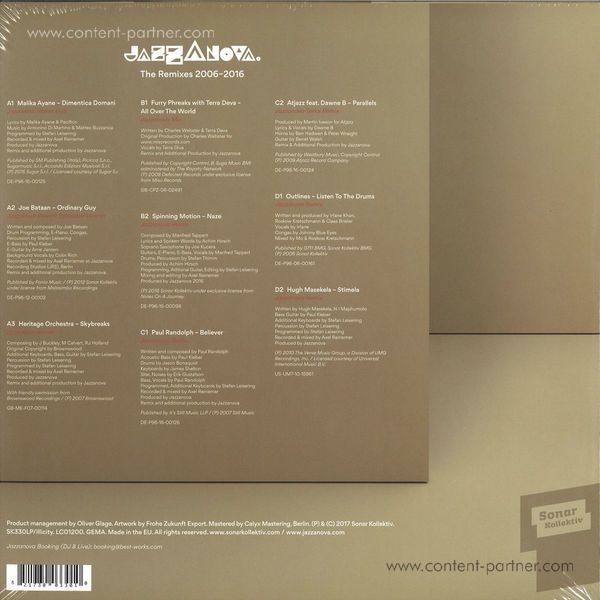 The Remixes 2006-2016 (2LP Red)
To order please add to basket and proceed to check out
1.
Malika Ayane - "dimentica Domani" (Jazzanova Remix Dub) (5:09)
---
2.
Joe Bataan - "ordinary Guy" (Jazzanova Rework Extended Version) (5:48)
---
3.
Heritage Orchestra - "skybreaks" (Jazzanova Remix) (6:49)
---
4.
Furry Phreaks - "all Over The World" (With Terra Deva - Jazzanova Mix) (8:26)
---
5.
Spinning Motion - "naze" (Jazzanova Remix) (8:05)
---
6.
Paul Randolph - "believer" (Jazzanova Remix) (7:00)
---
7.
Atjazz - "parallels" (Feat Dawne B - Jazzanova Serial Remix) (8:21)
---
8.
Outlines - "listen To The Drums" (Jazzanova Remix) (8:23)
---
9.
Hugh Masekela - "stimela" (Jazzanova Remix) (6:57)
---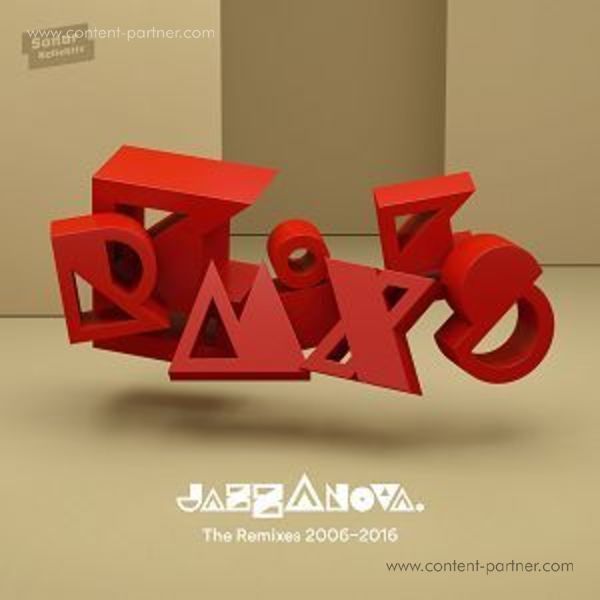 description
Zurück in die Zukunft: Dancefloor-Klassiker für die Ewigkeit.

Mit dieser Zusammenstellung wird ein amtliches Jubiläum gefeiert: 20 Jahre Remixes von Jazzanova. Dabei ist "The Remixes 2006-2016" der dritte Teil einer mittlerweile zur Trilogie angewachsenen Kompilationsserie. Er enthält neun Tracks, die so klingen, als wären sie erst gestern erschienen.
Angefangen beim Remix von "Listen To The Drums" von Outlines, der über die Jahre zum weltweiten Clubhit avancierte. Auch die Remixes von Furry Phreaks' "All Over The World" und Heritage Orchestras "Skybreaks" klingen wirklich nicht wie zwei Nummern aus dem Jahr 2007. Das ist der Sound von Jazzanova, der sich zeitlos und genreübergreifend in die Ewigkeit einmeißelt. Oder wer würde den 2009er-Remix für Atjazz' "Parallels" nicht auch als modernen Dancefloor-Klassiker bezeichnen?

Mit den beiden Reworks von "Stimela" (Hugh Masekela) und "Ordinary Guy" (Joe Bataan) finden sich direkt auch noch echte Funk/Soul-Evergreens im Tracklisting. Damit nicht genug: Auf der Werkschau darf selbstverständlich der Remix für "Believer" von Paul Randolph aus dem Jahr 2007 nicht fehlen. Abgerundet wird das Spektakel mit der Bearbeitung des vergessenen Stücks "Naze" von Spinning Motion. Und als Bonus gibt's einen bislang unveröffentlichten Remix dazu, nämlich von "Dimentica Domani" der jungen, italienischen Singersongwriterin Malika Ayane.